Getting Ready for a Long Cold Winter
Posted by Justin Boland on Aug 27, 2008 | 7 comments

One thing is already pretty clear: 2008 is not going to be a good year for the United States of America. Although Audible Hype is allegedly about DIY hip hop and making a living off music, let's all pause to acknowledge the grim panorama of The Big Picture. The United States economy is currently bleeding to death and we're headed for a long cold winter. With bank failures and corporations collapsing, the losses of jobs and property will have thousands of complex and horrible effects. Here's one that's insignifigant to everyone but Audible Hype readers: everyone will have way less money for CDs. For T-shirts. For vinyl. Even for shows.
This obviously points towards a narrowing market, and as a total unknown with a startup independent label, you can bet I'm super-psyched about this. The rest of 2008 will be a challenge for everyone, especially the little guys. This is about how to survive and thrive—simple concepts, proven techniques, and valuable role models.
Start with Simple Psychology.
Here's the single biggest thing you've got going for you: everyone else is getting frustrated and having a hard time, too. When the going gets hard, what do you do?
Statistically, you give up. Yep. That is what the majority of people do when they're frustrated. I know a couple hundred insanely talented rappers who got sick of dealing with the bullshit, and they gave up. During bleak times, simple tenacity will win out over most any other strategy.

Music At A Price Your Customers Can Afford
Free CDs will never go out of style. Like any tool, there's a right way to use them, and a surefire method for acting retarded. I've seen a lot of people walk through a bar, hand a CD to everyone that would reflexively reach for one, say the same single sentence script to every person, and walk out feeling like they'd accomplished something. They did: they just wasted a medium-sized chunk of money and provided another small life irritation for a bunch of bar patrons.
Telemarketers are assholes, right? So don't market like a telemarketer. Free CDs will never go out of style because they're always appreciated by people who want your music. When someone asks me if I've got a CD out and I can just hand them one, I know there's a 50% chance they'll actually listen to it. When I walk around confronting people, with no context, and giving out that same CD, I know there's a .05% chance they'll actually listen to it.
Only One Part Actually Matters.
I realize that what I advocate here at Audible Hype is not for everyone. I do get plenty of emails from artists who think I'm giving them "too much homework," and I love getting that kind of feedback because it's a daily reminder of how weak most of you humans are. I appreciate the encouragement.
Between the recording, the mixing, the mastering, the design, the manufacturing, the promotion, the marketing, the booking, the touring, the research, the reading, the websites, the blogs, I know. It's a ton of tiny detail shitwork, but I'm putting this early in the article because I'll drive it home again at the end. Only one part actually matters, and that's your relationship with your fans. As long as you stay in touch with them and treat them with love and respect, you'll survive into 2010.
Up Your Skillz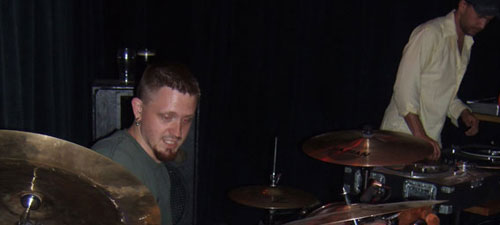 Let me introduce you to Nick Williams. Nick is a pretty amazing drummer, but he's also a lighting designer, a live sound tech, a beat producer, a soundtrack composer, and one of the fastest Pro Tools engineers I've ever worked with…oh, and a "Geek Squad" manager at the local Best Buy. (I'm waiting tables, myself.) The point I'm making is far from original but it needs to be repeated: most of the normal people in your life will tell you that you "do too much"—the reality is that you're not doing nearly enough. The more you can develop new, useful skills with your free time, the more you can accomplish in the future, and the less you'll have to rely on other people.
Other people, as we all know, are notoriously unpredictable.
Focus on Meaningful Metrics
Hip hop is a street culture and putting up flyers is a rite of passage for literally millions of kids around the world. I'm a hick from Vermont, though, and I think of advertising as a form of pollution. We burn down billboards where I come from, so you can imagine how I feel about putting up posters around town. In any mid-sized city, there's about 20-30 stores that are worth putting up a colorful, well-designed poster in. These are the venues that your demographic is actually going to on a regular basis, and these are the venues that will actually keep your poster up and display it prominently.
Internet marketing, in case you haven't noticed yet, is pretty much FUCKING AMAZING. For instance, it costs you money to print up posters and put them up around town, yet it can make you money to do promotions online. Here's another great example: unless people specifically tell you where and how they heard about your event, you'll never know what worked and what was wasted effort when you do a print campaign. On the internet, however, you get automatic feedback, site metrics, user data—from everyone who sees your promo.
Helpful hint: download statistics are the most reliable indicator of album sales. Your myspace friend count reflects reality about as much as the mind of George W. Bush does. So rather than fight piracy, host your music yourself. You can do this right now, for free, via MediaFire, who are professional and upstanding folks.
When You Have Time But Not Money…
…obviously, you invest the time. I am really staying on my own case in 2008: I can't be wasting time with bitchery and complainifying. Time spent "explaining" why I can't afford to manufacture and promote my albums is wasted time. I have plenty of work to put in, and until I have my operation running right, I would be insane to expect money. (Especially based on some notion that I "deserve" it because of some magical "talent.")
Likewise, most of the rappers who contact me via Audible Hype complaining about how hard it is to promote their albums have not taken any of the simple, powerful and free steps that you can take right now. Do you have a blog? Get one for free right now. Do you have a paypal account? Do that. Get your music on Facebook, Last.fm and iLike, tonight.
If you don't have the computer skills, that's actually not an excuse. From html to css to photoshop to pro tools, anything you need to learn, you can find excellent free tutorials to teach you, online, right now.
Remember, depression is counterproductive and self-indulgent. The time you spend brooding is time you could spend building.
Role Model #1: Tonedeff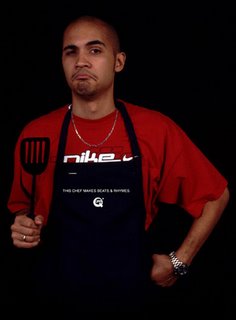 Even people who hate on Tonedeff's music admit he's one of the most skilled rappers on a mic. Critics are probably not what bothers Tonedeff, though: what worries him is people who've never heard of Tonedeff. The man is fiercely independent and he's one of the best living examples of DIY hip hop you can study. He's built his label, QN5, into a powerhouse. Anyone can jack up their myspace play counts, but you can't fake metrics like the CunninLynguist's Last.Fm stats.
You produce, emcee, sing, run your own label, produce for your artists, feature on a variety of projects, perform a great live show, back your artists up on stage, how do you have the time and energy for all that?

Tonedeff: I don't have any time, basically my life is a series of chores, tasks, favors, deadlines and money stress, that's my life. Ever since I was a kid I just always wanted to make records and put things together. I really enjoy being a collaborative person, working with other people and helping their sh*t look better and sound better via my talent. Anyway that I can help, because I like to see people succeed and I'm a real team player. In fact I tend to help other people more than I help myself.
Role Model #2: Wordsmith
I start my day at 4:00 AM, 5 days a week and travel over an hour from Baltimore to Washington DC for work. During the drive, I am usually practicing my lyrics for different songs I want to perform at upcoming shows. When I get to my job, I carry in a book bag that has my rhymebook(s), beat CD's, and 100 blank CD's into work. I do an important job, but that doesn't stop me from spending all 8 of my hours at work burning copies..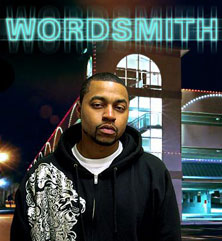 That's just a small sampling of what Wordsmith has to offer. The dude is an inspiration and a great reality check: if there's anyone in your city hustling as hard as Wordsmith, they're already eating your food. That doesn't mean you failed at life, just means you've got some catch-up work ahead of you. Start here.
Wordsmith also faces the classic emcee problem of someone else biting your name. In his case, that someone else is a slightly goofy looking kid from the UK, and a much younger cat from Rhode Island so for what it's worth, Audible Hype is only concerned with the real Wordsmith from Baltimore.
Role Model #3: Atmosphere

It's worth considering that maybe hip hop is suffering because 99.9% of you are doing it wrong. There's an independent group out of Minnesota—seriously—who had their last album debut at number 5 on the charts. Not the college radio charts, the Billboard Top 200—so clearly Atmosphere is doing something right. Here's a break down from Brent "Siddiq" Sayers, courtesy of this highly educational article from Pulse:
"Atmosphere's the flagship artist: Sean [Slug] has been doing this longer than any of them and has built Atmosphere to the point, touring-wise, that they can sell out bigger rooms. So he'll bring [Brother] Ali out on the Godlovesugly tour when he's never been out there before. It's up to the artist to put on a great show and be responsible, but they learn because they watch Sean: Sean's on time, Sean does all his interviews. Sometimes we'll do 16, 17 shows in a row non-stop. So when you roll like that, you learn the ropes. We brought Ali out, P.O.S. went out the same way and it's been continuous where we bring developing artists out and they see from the ground level how much work this really is. Touring has been that foundation pretty much since the beginning and at least since I've been here.

That was part of my goal: to really implement a touring structure in Rhymesayers, because that's one of the things I first saw when I saw Atmosphere play the Entry. When I met Sean, I was like, man, you gotta take it on the road. We just started doing it, grinding it. Driving to Texas, doing a show. Going to Chicago, doing a show and driving back overnight because people had to work the next day. Sleeping on people's floors. Whatever it took. A lot of people that are newer don't know that it's been a long time coming. Atmosphere didn't just sell 100,000 records.
The Last Word from Seth Godin

This passage from his recent article, The Secret of the Web, really resonated with me. Well, more accurately, it really, really pissed me off because it confirmed one of my darker suspicions. Running World-Around Records is rewarding, but mostly frustrating as fuck. The gap between putting in work and seeing the results is something I constantly have a hard time with. I constantly have to remind myself that this is a path I chose, consciously and deliberately, and this frustration is the inevitable consequence of Doing It Right.
I'm not doing this to make money. I'm doing this to make music for a living. I'm doing this to build something larger than myself that will create positive changes.
Boingboing is one of the most popular blogs in the world because they never gave up.

The irony of the web is that the tactics work really quickly. You friend someone on Facebook and two minutes later, they friend you back. Bang.

But the strategy still takes forever. The strategy is the hard part, not the tactics.

The media wants overnight successes (so they have someone to tear down). Ignore them. Ignore the early adopter critics that never have enough to play with. Ignore your investors that want proven tactics and predictable instant results. Listen instead to your real customers, to your vision and make something for the long haul. Because that's how long it's going to take, guys.
Resources for Dedicated Primates

If blogging and internet media is new to you, there's 10,000 blogs about blogging. Pretty much all of them are superficial horseshit, but the greatest exception is DoshDosh, written by a Pseudonym pseudonamed Maki. . Every article is a tutorial, raising detailed questions and providing detailed answers. It's an amazingly useful resource and it helped us out at Back Brain Media, especially in the past year.
Start with his concept of "Opportunity Costs"—and if you've never heard of SWOT Analysis, get familiar with the most important tool a DIY capitalist could have. I also highly recommend his reality check, Social Media Networking and Return on Investment".
Other important articles for beginners: How to Promote Your Website for $100, Blogging Mistakes Roundup, and finally The "Free" Business Model: A Strategy for Attention, Traffic and Profits.

Another great resource is Andrew Dubber, author of New Music Strategies, and the excellent report "20 Things You Must Know", which is still the most relevant and concise dose of reality I've found. Dubber is currently working on the (insanely ambitious and quite admirable) sequel, which will basically be the most complete FAQ for music promotion online in human history.
Here's a few exceptionally useful chapters:
How Can I Sell My Music Online?
It's Actually Not a Competition
Your fans will be your fans no matter what.
Your fans are not into 95% of other rappers, but they are into you.
Most of who you consider competition actually pose no threat to your success or your fanbase.
Most of them are in fact struggling musicians just like you.
Most of them could probably help you out, if you swallow your pride and make contact.
Most of the time, we waste our time.
We can always be working on improving our own operations.
We can always be doing more to help.
1 Emcee R-Two says...

as I drink a hieneken at 8am, after a long night at work 10pm-8am, I try plotting out the day, and relative deadlines, lifelines, etc. I peep my myspace page, add a few friends, feed my kids and take my son to school then its back on the grind. Writing, promoting, graphics, booking etc. IT DOESNT STOP! there will be no "after this album" "after this show" etc.

THERE IS NO AFTER! only NOW!

and right NOW, I'm loving this article and I'm about to research some of the sources.

Big ups to Justin for doing it again, and a SUPER BIG UPS to my dawg Custom (aka Nick Williams) for getting that well developed sound outta me like the streets deserve to hear. (i'm a little too veteran to put out some b.s. underproduced pc recorded products).

keep it up fam.

and I'll see yall tonight.

peace,

<2>

Posted at 4:18 a.m. on August 28, 2008

Great post! Just sent you an email. This post and Rhodri's post on MTT are the best posts of the month for me..

Cheers,

Bruce

Posted at 4:58 a.m. on August 28, 2008

I'm really glad you decided to start back up with Audible Hype, because I find the material and insight on here to be the most grounded and realistic of all the "DIY" blogs I read.

A lot of places like New Music Strategies and Music Think Tank are very Utopian or abstract with it's perception of the musical landscape. Not that I think they're b.s., but during the times where I got a little too invested with the folks who analyze the situation, it's a very far cry from what actually is going on at the ground level.

For example, the internet is certainly the most amazing tool for the diy musician. However, for all the blogging software and Twitters out there, people are not that cut and dry that these are the only places they are to be approached now. Playing out is still one of the most meaningful and direct interactions.

Without sounding completely ignorant, I always considered DIY to be the ethics of the hardcore/punk scene from the early 80's, that perpetuated in only that form of music (to later be co-opted by folks who were way late for the boat, yet heralding it as the new way to approach your musical path). It's a pleasant surprise to see hip-hop has followed a parallel path.

Which more-so brings me to the point that I think that Audible Hype's material is applies universally, and not just to hip-hop.

My favorite part of this though is that this is not a competition, and certainly not a race. Folks who try their damnedest to go as fast as they possibly can are most likely the ones to dig a financial hole that leaves one sunk and burnt out. Take it one step at a time. It's small accomplishment after small accomplishment that leads to the bigger prize.

Posted at 6:29 p.m. on August 31, 2008

Thanks very much for the feedback, man, I truly appreciate that.

And I agree, I personally trace the lineage of this back to 80s punk rock and 90s african music. Sage Francis also stated on a number of occasions that he was inspired by DIY punk bands and built Strange Famous Records on that model.

I'm especially interested in what comes after hip hop-these new, omni-genre sound system party bands like Gogol Bordello, or Toubab Krewe, or Flobots.

Posted at 8:33 p.m. on August 31, 2008

PERFECT. unfortunately many will fear this thread. However its all about accepting this info and choosing to move forward however necessary. People like atmosphere and tonedeff are perfect examples. They have seen the industry change over and over to eventually begin to almost favor indie artists in some respect. They only reason they have stayed afloat is adapting to that change to doing whatever it takes to get their music heard. FREE SHIT is the best way to go right now. I think you should start getting into the idea that first touched on in the Music Business book about music flowing like water. You gotta make people desire this stuff without you telling them they desire it. Have them pull you in. If there is free music to anticipate constantly, fans will be more attentive to see when that is, as well as possibly purchase things during the interim. i could be wrong, thoughts?

Posted at 11:32 a.m. on September 11, 2008

I've come back to re-read this like 5 times now, the part about "not complaining, always building" is very hard to apply.


I can't hold frustration against anyone, it happens a lot.

Posted at 9:59 a.m. on September 12, 2008

7 Henrik Gibson says...

Well, it looks like time proved you more or less right...digital sales are up though, but overall it was not enough...a lot of startup companies went under this year, too....for hip hop, though? overall it's looking better, isnt' it? Please do a recap article on this! I think things are looking up in 2009

Posted at 4:34 p.m. on May 21, 2009
More DIY Music Resources
Subscribe to Audible Hype