Nasa from Uncommon Records Part 2
Posted by Justin Boland on Apr 30, 2011 | 6 comments

Since I first interviewed Uncommon Nasa almost two years ago, his label Uncommon Records has been building a name worldwide. They've expanded the roster, the fanbase and the catalog, so this follow-up interview is a detailed look at the business behind an effective independent hip hop label.
Meet the Real NASA…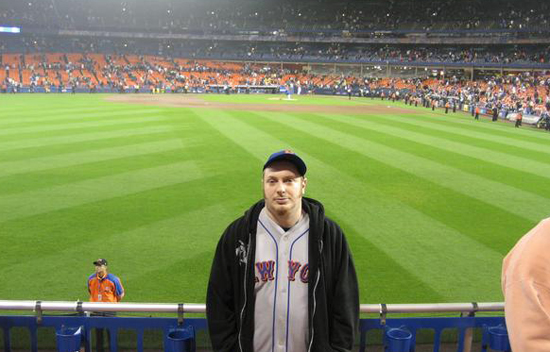 AH: In 2011, what are the most important metrics to you now? I know it ain't Soundscan or friends on Facebook…how does Uncommon gauge success these days?
NASA: I honestly think the most important metric is individual reaction. If you are putting out music and people are reacting like it's the most important thing they have going on at that moment, then you are succeeding. It doesn't matter if it's one person or 1,000 people. If you aren't getting that reaction, then you are doing something wrong. That reaction is what leads to word of mouth. It's how our business has grown and matured in the last 2 years or so. And I should say, thank you to everyone that does support us in that way, we do this for you. That support goes a very long way.

AH: The Uncommon Radio podcast has been getting stronger with every installment — what's your process for creating that? What kind of software are you using to make it happen?
NASA: Thanks man, I just finished recording episode #30 today actually. The process is pretty easy, I just record it into Protools, edit it down and post it up using a service called Liberated Syndication. They get it to Itunes and some other places and provide a cool widget for listening and downloading that I have on the Uncommon Site as well (for all those Itunes haters out there).
The goal of the show is to highlight Progressive Hip-Hop. It's been in it's current form since 2009, at first we barely had enough music worth playing, we even mixed in other genres to make up the space. Now, we can't get everything on that we want. Myself and Cirrus Minor host it and have a lot of fun doing it. I pick out most of the music, Cirrus kind of ends up playing the role of the listener hearing me break down the joints and listening to most of them for the first time. We try to keep it light and have fun with it, but bring important music to people's attention. I work a day job in radio so I know how to do the imaging that you can hear in the intro and sprinkled throughout it. All of that is to try and get it sounding as professional as possible.
I really enjoy the aspect of conversating about the music in between the songs. A lot podcasts are just tracks mixed like a mix tape. That's fine if you are playing the right stuff, and many ARE doing just that so it's cool. But I like taking it back to that traditional late night underground radio vibe. That's what I came up on and what I want to bring to people.
It's ended up being a great cross-promotional tool for the label, obviously I play stuff and premier stuff from us on there. I've come across a few people that found the podcast first and then were drawn into the label and that's really cool to me. But at heart, I do it for the love. If I didn't love this music, I wouldn't invest so much time in it. Start to finish each episode takes about 3-4 hours to record, edit and post.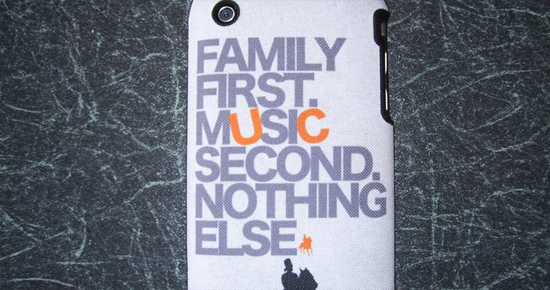 AH: What's your experience been in the past year using Zazzle and Bandcamp? Do you think there's a silver bullet for indie labels yet, or we still working towards that?
NASA: I can safely report there is no silver bullet. We are definitely still working toward it. I fear that the only way we end up with a silver bullet is when the powers that be create one that we all have to use. That's why I'm in no rush to get there. Zazzle has been really cool. The amount of professional looking products you can create is far an above their competitors and I've used one other and explored a third, so I know from experience. End of the day, do I wish the percentage for us from the sales was larger without making the prices un-reachable? I'd be lying if I said any different. But, the fans seem to really be responding to all the gear we're putting out there and as I'm sure you know, everytime someone invests their money in you and your product they become closer to it. So from that standpoint it's a ripping success. The fact that you can have a store full of merch and not had to lay out the money up front, of course is the obvious plus to the whole thing.
Bandcamp has also been great. We've doing a good job of balancing free releases with pay releases on there. The free releases act as nets for emails that add to our ever expanding list (the most valuable tool in the box). You know that all the emails you get from bandcamp are people that took to the time to check you out, so they are more likely to read your emails. This is the best way to turn a casual fan into a consumer in my opinion. It's a huge part of our structure. Again, as with Zazzle, do I wish I wasn't giving up 15% for every sale? I'd be lying if I said no. But for what you gain from Bandcamp, they deserve their cut.
I do think, big picture all of these services are building to something else. I'm just not sure what yet, that's why you need to have that strong email list. An email list is like having cash under your mattress as opposed to living off of a credit card. It's permanent.
The closest thing to a silver bullet is this simple equation: Post a free album (of quality) on Bandcamp. Tell people about it on Twitter (often), collect emails from Twitter of bloggers/DJs, import the emails you get from people on Twitter and that collect on Bandcamp into your blasts. Create a sellable product to then hit people with in the blast. There are other pieces like Soundcloud and Facebook, but the essential is that Bandcamp-Twitter-Email cycle.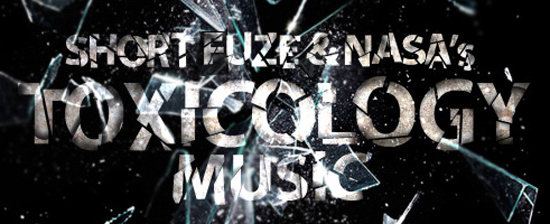 AH: What advice do you have for artists just getting started with building and managing their own email lists?
NASA: Remember this rule, only 15-25% of the people you get your message to will react to it. It's a harsh reality. It can grow larger as you do things right. But that's true of your Twitter followers, your Facebook fans and your email list. Always, 15%-25%. If you send to 50 people or 50,000 people, the percentage will not change very much. So, that means it's your job to constantly be adding people to your list. The more the merrier. That doesn't mean you should add names in a SPAM way, where it's just random stolen emails. They should all be people that theoretically want to hear from you. So, as I said, get that free project up, get the word out and start collecting emails on your own as well. If you are just starting out and have ZERO emails collected. Start with a modest goal. Collect 250 emails in 2 months. You should be able to meet that, then keep going!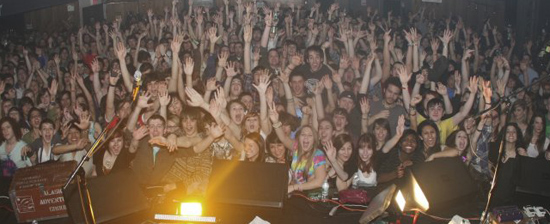 AH: Do you feel like it's getting harder for independent acts to book shows and tours lately?
NASA: I'm just getting into planning out tours directly now. I'm working on a quick handful of dates in the Summer in the Mid Atlantic and then a full fledged 2 week tour with Short Fuze, myself and Aeon Grey of Central Standard & Maxilla Blue in the Midwest, back East in time for Yule Prog in the Winter. My insticts tell me it's all in how hard you work. In some ways it's easier because you deal with more artists/fans one on one instead of with promoters in these towns or worse, touring companies. If it's grass roots, that's what I'm about. It's getting to that time to roll up my sleeves and really get down in it. I think if you are willing to do that and actually reach out to people in similar situations, it can only be so hard. The normal challenges of "how do we pay for all this?" will always be there no matter how large or small your following is, so I don't expect that to change ever.
AH: On the business administration side, have you added anyone to the team in the past year or do you still mostly run the circus by yourself?
NASA: As far as business goes we are still a mom & pop (pop) operation. I take care of almost everything to this day. From administrative (cutting check and receiving them), budgeting out what we're spending on and why, promotion of records, the creative part of it obviously. And all of this while still working and doing Engineering at home now with Nasa Labs. I am constantly working.
The only thing that has changed since the last we spoke is I have DJ Jazzpants working with me. He's basically become the labels graphics guru, intern and all around support system. Can't really stress enough how much of a help he's been to the label. As we grow over time I hope to expand his role further. The thing about Uncommon, and I'm sure he can attest is, there is ALWAYS something to be done. It's never quiet, there is NO rest for the weary. He will play a large role in the Orange Army Street Forces project coming up here this week.

AH: What tools are you using to organize your street team, the Orange Army?
NASA: Our new street team is like nothing else that's ever been done. The way it will work is our street team will complete specific missions for specific prizes. Each mission must be completed in order to get to the next and each mission involves doing something for us and getting something back. The first mission is simple enough, you send us your address (orangearmymissions@gmail.com) we mail you out 50 of our Orange Army stickers. The person then hooks them up in their hood out in public and sends back pics. For every 10 pics they will get a CD sent back with an exclusive song, that will ONLY be available on that disc. Unless the participant leaks it themselves online, we never will. So they are basically getting a custom made song. The pics will also be posted by city on our Facebook. No postage needed, we handle it all. The songs the person gets are chosen blindly. Songs included in the pool include work from Subtitle, The Presence, Taiyamo Denku, Elucid, A.M. Breakups, Short Fuze & Nasa, Acid Reign and will always be added to. And that's just Mission 1, we've got other plans for the future, this will be an on-going street team that's part adventure, part game, part promotion.
AH: Do you think it's important to work with blogs on exclusive releases and co-signs, or have you stopped worrying about that as the Uncommon brand gets more and more established with each release?
NASA: The political answer to that question is, "of course, that's great!". In reality, it only CAN be great. Listen, if the right situation comes up, cross promotion with a blog is terrific. We have done it, we appreciate it more then anything and we are more then open to doing it again. Personally, I get frustrated when blogs don't cover some of our great releases, but realistically for me, no amount of coverage is enough. So I fight that every day, that's my job - to never be satisfied. I really do believe in what we are releasing, so every space occupied by someone that isn't us out there is a source of some frustration somewhere in my head. But the other part of this is the term "blog" is changing in hip-hop now. Most blogs are now run by fans, not by ex-magazine writers. Many blogs that may cover you are from people that are actually buying your music, so that whole definition is changing.
At the end of the day though, besides the blogs that are really enthusiastic and genuine in their support for you, it all amounts to a hill of beans. What are traditional blogs worth at this point? The controlled ones? What value do they have? Do the readers of these highly read blogs have purchasing power? This goes back to why I said I'm going against the "political answer". The truth is the MOST important thing for your brand is your direct relationship with your fans. And this can be nutured directly through Twitter, Facebook, Emails and your Website. This is why we are doing the Orange Army, for our fans. This is why we have some other unique merch plans getting laid out for this year that I can't get into yet. This is why we started our "Pop Up Albums" concept. We aren't working for the sake of some blog selling ads, it's for the people that genuinely love our label and the unique ideas that we put out there through it.
The truth is that you can be covered by several blogs and not connect with one real person out there that's willing to actually BUY your product. That goes back to the way I measure success that we talked about a moment ago. It's about the ferocity of the response from individuals, not a collective shrug from the masses.
So, final answer, I love it when blogs cover us, I covet more coverage all the time, but I know and anyone reading this knows, that that isn't the be all end all.
How have you approached expanding the roster in 2010 and 2011? Are you reaching out to specific acts or do you wait for interested artists to contact you before evaluating them?
NASA: It's a combination of both. This year we've expanded the roster to include 3 new acts. Acid Reign, Atari Blitzkrieg and Pruven. Acid Reign approached us, I approached Atari and Pruven was a combination of both with him hitting me with his album a while back and me being really into and wanting him to do something new with us. I always have my ears open and am always looking for music to put out. Our schedule is pretty deep right now, but there is always a chance I'll hear something and make a move on it. My ear is to the ground. It does make me proud that people approach us at this point, it doesn't always work out, but that's respect right there.
AH: If you could hire employees, what kind of work would you want to delegate first? What kind of expertise would you like to bring onboard for the company?
NASA: Man, I would love to hire employees and grow the company. The first position I would hire would be a Tour Manager. I'd have someone sitting in a room all day collecting info on venues across the country and internationally, finding scenes in any town where they exist. They would be in charge of making contact with other artists in other cities and planning out tours for combinations of our artists. Since we have artists across the country, tours could start and end anywhere. They would also be in charge of coordinating press for these sorts of tours in each city. The second position I would hire would be a Promotions Coordinator. This would be more of a delegation, as I do most of this now. Their job would be to seek out new blogs to connect with along with tracking down underground radio shows. Their job would also be seeking out new opportunities for the company as well, collaborative efforts and partnerships with other small businesses. This could be coordinated with the Tour Manager too. So, yeah….if you want to do this kind of stuff with us and want to start out un-paid, with no guarantee of ever getting paid but gain a shitload of experience you can maybe take someplace else, get at us. Like I said, I've got Jazz involved now, he's sort of become head of our Graphics Department and freelances in the Promotions Coordinator role I described as well. Huge help there. I think growing a team is a legit goal though. You can't do what we do at Uncommon alone. Bouncing thoughts off others and taking their suggestions is what makes the engine go, that's how you truly come up with bold concepts.
Related Articles
More DIY Music Resources
Subscribe to Audible Hype