Alkota: A Music Career with a Business Mentality
Posted by Justin Boland on Feb 28, 2011 | 0 Comments

Got an excellent interview for the people today. Alkota, like most successful hip hop producers, is involved in way more than just creating and selling beats to rappers. He is disciplined, focused and he's got a lot to teach on bringing the small business mentality to your music career…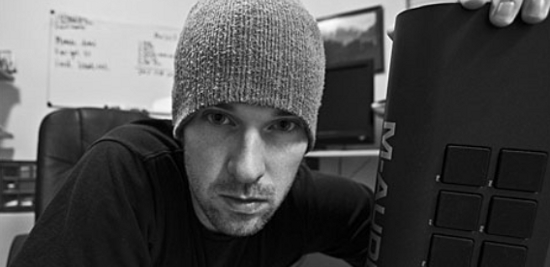 What is your daily routine like in 2011?
Alkota: My daily routine consists of waking up as early as possible, making some coffee, and checking my e-mail. I generally spend the first half of my day doing SEO (search engine optimization) stuff for my website and blog. It usually consists of seeking out interview opportunities, uploading videos to YouTube, posting new beats to facebook and twitter, exchanging links, and networking. I also check the music blogs for new material and artists to I would like to work with. I'm constantly submitting beats to artists and building a network and team of contacts.
For instance, I was able to send some beats to Shabaam Sahdeeq before the end of last year, he was diggin the tracks and is using them on his next project. I hooked him up with the beats without charging to land the placement. There was emphasis on having a video shot to the song using my beat, having a visual to your music seems like its more important than ever. I'm willing to give free beats to people if there is a mutually beneficial situation, but I always ask for a minor contribution. Having reputable clients and credits is more important the money up front for me. In the end it will pay off.
I cannot begin to stress how social networking has paid off. I am able to connect and work with some of the best hip hop artists via Facebook, Twitter and my website. If you have the right approach and remain humble almost everyone is willing to listen to your music. I'm also producing beatmaking videos for YouTube and Vimeo to help drive traffic to my site and products.
I'm definitely not slacking in this department. I've got an awesome motion graphics artist who animated my logo and website URL for an intro tag to each of my videos. Additionally, I got a dope DSLR camera to shoot high quality video. So basically, business and marketing in the morning and beats in the afternoon.
The second half of my day is spent digging for samples, sounds, and drums. When I say "digging" I'm not restricting myself to vinyl. Vinyl is dope and I prefer to sample from it, however I have been finding samples digitally for the last year and some of my best beats were created using samples from Records that your average beat maker WOULD NEVER listen to. I quit trying to be an ideal purist as soon as I figured out it limits what you are capable of making. I try to limit my intake of hip-hop in general so I don't bite. Right now, I'm trying to make a beat a day. I try to strive to make one banger that someone can use. My plan is to slowly increase the quota on myself while building up my catalog. Its unrealistic for me to try and do beats all day and not get burnt out, so if I crank out 5-10 bangers a week that's an attainable, realistic, goal.
AH: Do you get more business through leasing beats, or exclusive rights purchases?
Alkota: Between 2004 and 2008 I made a killing each year selling exclusive rights to artists and labels. I was actually against the whole concept of " leasing" beats until this last year (2010). The perception of beat leases by certain individuals brands you as "cheap" and " low quality" . For a number of years I feared being labeled as a " cheap producer" and it ultimately hurt my bottom line. I had heard about producers beatmakers making a killing leasing their beats 10-20 times to different artists. Essentially they were generating more money off leases than exclusive rights to a beat. From there, it was a matter of paradigm shift and adapting my business model to make money. I do this for the love foremost, but I also do it for money.
Leasing is a new way of doing business and a new source of income in a depressed economy and changing music industry. You can hate it as much as you want, but its here to stay. People like me who are reluctant to change their ways in the hyper-competitive beat market are going to find their sales and income streams hurting. The other great thing I discovered about leasing beats was that most artists come back and eventually buy the exclusive rights. I don' t lease all of my beats. I always keep a healthy stash of beats for exclusive rights only that I shop to artists and labels I want to work with. If no one bites on the beat, I eventually just put it out there for everyone.
Majority of my business is still exclusive rights, but the leases are starting to play a more important role.
AH: How has it been working with Production MarketPlace? Would you recommend their service to up and coming producers?
Alkota: I've been a member of PMP for nearly two years and haven't sold a single beat or placement on anyone's album. This can be attributed to the fact that I hit a slump between 2009 and mid 2010 where I wasn't producing as much music or grinding nearly as hard as I had been. So I can' t personally speak on the value of their services in that sense. However, PMP is an excellent way to submit to projects and network with individuals you otherwise might never have the opportunity to meet. I'm based in Anchorage Alaska, probably the most regionally isolated place from the music industry. I rely on tools like PMP, iStandard, my website, e-mail, and word of mouth to get my music heard.
In 2007, I met a producer by the name of Reddhot Beats (DJ Frank E) in Denver Colorado. DJ Frank E was recently discovered via PMP and has more top hit singles on the radio than I can count on my fingers. The dude had the formula for the type of music that makes big money and he put everything he had into getting discovered. The fact that PMP facilitated his discovery should be an indication that the service works.
I would definitely recommend up and coming producers invest in services like PMP and iStandard, because at the end of the day the industry has gatekeepers and quality control checkpoints. If you have music that' s quality you need to submit it to these gatekeepers. They are listening! It' s just a matter of you having a little luck and some bangin beats. Investing in these services is diversifying your marketing strategy.
AH: Who are your biggest role models and influences, in terms of running a business and building a career?
Alkota: First and foremost my Father. My father has been entrepreneur since he was 26 and has run a very successful business in the dental industry from which he recently retired. I've spent the last year picking his brain about the ups and downs of working for yourself doing what you love. He's explained the low points, including having $0 to your name and coming up with payroll for your employees to the benefits and flexibility of a business owners schedule. My dad was recently diagnosed with Stage IV stomach cancer and that was a huge wake up call for me. The message was, life is short so quit fucking around and do what you love!
I spent the last 3 years out of college working a 9-5 making good money and having security in my life, but I was never truly happy. There is no better indication that you are in the wrong career and business if you are constantly wondering " what if?" about your music career.
Some other influential individuals have been producers like K-Murdock who has mixed and mastered some of my work. Kyle was very helpful and upfront sharing his experiences running his own music business full time. Matt Diamond from Coalmine Records has also been a great resource and ally for me. Other producers like Illmind and DJ Frank E who took the risk, sacrificing financial security to pursue their dreams and passions are also very influential. Watching success materialize for others is inspiring and motivating. I truly believe it's out there if you are willing to get it.
AH: How do you handle data storage and security, as your library of product grows every year?
Alkota: I recently bought two new 1TB firewire drives. In addition to making music, I shoot video so having large and reliable capacity to store my work is important. All my work is backed up and encrypted on two different hardrives. I also backup and upload to a cloud service called Wuala. Having off site storage is huge! Accidents and theft do occur and losing your data could have a devastating effect on your catalog and career.
AH: What do you think are the most important parts of the contract when you're selling a beat?
Alkota: I can't honestly say I do contracts on all my sales and beats. A lot of my deals are done on good faith and reputation. I encourage EVERY artist who buys beats from me to do a contract though. If it's a legitimate label with distribution then I like to have everything in writing. Most artists and Indy labels are working out of pocket and on a budget, so there probably won't be too much money on the back end. However, there is always potential so I like to make sure that I get paid should a publishing situation arise. I'm also working on a stipulation for my contracts that the music does get distribution. Making some money up front is great, but at the end of the day if no one is hearing your material then there really is no point. I'm still working on sorting out the perfect mix between getting paid and getting played. Seems like its trial and error and I have made a few regrettable mistakes in the past with placements and my attitude.

AH: How long was the turnaround, from idea to product, on your MPC Flash drives?
Alkota: 2 months. The idea came to me and I like to think that was the easy part. The hard part was committing financially to the idea! I'm not going to talk numbers, but I had to fork out the type of money peoples savings accounts are made of. Took about a month to get the drafts/renderings of the drives finished and approved and once I charged multiple credit cards it was about another month for delivery. Deep down I knew the idea was solid and the product would sell. My marketing plan went berserk and I never imagined how successful it would be. Before I had the drives in my possession I setup a pre-order situation and e-mailed a few blogs including Cratekings.com. Semantik at Cratekings got Engadget.com to pick it up and post it on their blog. After that it went viral and I pre-sold my entire inventory in 1 month. I remember going to Kayne West's blog and trying to figure out how to submit it to them, but there was no links or contact information. I gave up on their website. A week later a friend called me and said he saw my drives at Kaynes blog! The Internet is fucking crazy if you know how to work it and have some luck!
AH: What are your long term business goals?
Alkota: I honestly think there is a shelf life to making beats. I don't see myself doing beats when I'm 50 (but who knows?). Having realistic expectations is just as important as dreaming when it comes to the music business. Getting some major placements is always on the list. Id likes to position myself to get more sync licensing placements that pay royalties and publishing money for years. I've already got about 100+ TV/Cable Shows and all the pennies and dollars add up. I'm not buying cars with the royalty checks, but its residual income so I want to focus more on this type of work.
Another long-term business goal is to branch into doing music videos and social media marketing for business and individuals. I've already got 2 clients locally. DIY marketing has been a hobby now turned career since 2004 and along the way I've become a pseudo-expert by trial and error, I'd like to help other individuals navigate the tricky waters of social networking and independent musicianship. My overall goal is get out of the "rat race" (making beats) and develop a portfolio of products and services geared towards hip hop consumers and beatmakers that will indefinitely pay my bills.
Further Illumination…
You can catch Alkota on Soundcloud, Bandcamp, The Twitter, and his own excellent website.
Related Articles
comments powered by

Disqus
Featured Articles
More DIY Music Resources
Subscribe to Audible Hype