DJ Trackstar: A VERY GOOD YEAR
Posted by Justin Boland on Jun 08, 2010 | 0 Comments

I've interviewed DJ Trackstar once before, and as of the last Audible Hype survey we did, most folks think it's the best interview I've done. So when I got a chance to catch back up with him, I had to ask a couple dozen questions on the record. As it turns out, he's had an amazingly good year…so here he's talking about the business of mixtapes, advice for new artists, starting over in a new city, what What Works in 2010. Dig it.

How has 2010 been going? Any surprise lessons or major successes since our last interview?
DJ Trackstar: 2010 has been good—I'd be an asshole if I complained, lol. I moved to San Diego in November of last year, so I've been learning a new city and scene. Lots of dope DJs here for sure. As far as surprise lessons….every day, ha… I knew I had to rebuild my brand in a new market after leaving St Louis, where I spent the last ten years, the entirety of my DJ career, but it's been even a little more uphill than I expected. A solid online rep only does so much—it provides credibility and can open doors, especially to those in the know, but you still have to do the groundwork of building a fanbase, reputation and connections within a new city. That said, I've been welcomed with open arms by a lot of talented DJs and tastemakers around here—I really appreciate the love I've been shown, and I'm of course loving the weather.
Major successes? SXSW was great, we put on an all-St Louis showcase with many of the artists I've been working with (Black Spade, Rockwell Knuckles, Wafeek, Tef Poe, Vandalyzm, Nato Caliph, Gotta Be Karim, and more), I was the house DJ for the Smoking Section/Nahright show with Freeway and J.Cole headlining (at that event, I DJed for Pill, and in a surprise move, 8Ball & MJG came out and introduced us to the crowd!), I spun for Killer Mike at his show (he and I have a fairly amazing project in the works that I'm crazy excited about), and just like last year, I met some great people. I'll be at SXSW every year from now til I die, lol.
Other than that, I've had some excellent and well-received releases this year. Projects with Vandalyzm, Rockwell Knuckles and Tef Poe, as well as From Marcy to Madison St: Jay-Z vs Lupe Fiasco (the followup to Best Rapper Alive?: Royce da 5'9" vs Lil Wayne), which I'm very proud of and people seem to really enjoy. I've got upcoming collabos with Digital Underground, Camp Lo/Pete Rock, J. Cardim, Black Spade (watch out for this one—Spade is one of the most talented people I've ever met), another couple of dope projects with Wafeek, and more surprises…I'm lucky and proud to be working with so many dope artists. I'm still a fan at heart and get excited about all of this…
After the last interview, I had a number of people asking questions about your graphic design. What kind of advice do you have for artists who are out shopping for some project design work? What should they look for and what should they expect to pay in 2010?
Trackstar: I've been blessed to have close friends and associates who are amazing designers, so fortunately I haven't had to do much serious shopping for graphics. My logo, and a couple covers (most impressively Growth & Patience: The Best of Royce da 5'9") were done by one of my best friends, A-Bex, who does work on major major movies and such. I'm lucky to have known him before he was a fancy and very very busy professional artist (lol) so he makes time for my projects occasionally. One of the main producers in the hip hop collective I rep, The Force out of St Louis, Tech Supreme, is also a talented designer, and he's done a bulk of my catalog as well.
There's a handful of other designers who have done great work for me as well…I guess the point is there's a lot of talent out there, and in 2010, more people than ever are doing quality graphic design. See who designed covers you like, find their contact, and try to negotiate. Going rate for cover work seems to be in the $50-$150 range—it depends on how experienced the designer is, on how much exposure your project can get the designer and how good working with you will look on their resume, and like anything else, your relationship with them.
I will say that graphic design is VERY important—my mixtape movement became much more legitimate when I stopped doing my own design and outsourced to folks who know what they are doing. Perception is reality, and the reality is, 99% of the time, people see the cover before they hear your music. If you have to spend slightly more than you expected/want, remember that that investment can create more sales and exposure, and legitimize you in the eyes of the people you might be trying to impress. In 2010, with the sheer # of designers out there, there's really no reason to have subpar design.
How are things going with the Center for Recording Arts? Where would you like to take that project in the next few years?
Trackstar: The Center for Recording Arts is in something of a holding pattern right now, unfortunately. I still have a passion for working with youth, and I do referee basketball games at the Y and such, but since moving, I haven't really set up any new operations out here in California. I'm working with some people on getting some stuff going out here, which will hopefully happen soon. In the meantime, I've kept in touch with some of the kids I was working with back in St Louis: my guy Ciej has been creating some very dope music, both rapping and with his production, and Less has started working with a crew called No Limos out of Connecticut.
Over the next few years, I want to make time to do more workshops in schools and detention centers. Right now while I'm still trying to establish my career as a DJ and acclimate myself to a whole new coast it's hard to take out too much time to expand my programming, but as my stability increases I definitely plan to get back into getting my lessons back out to where they are needed. I feel like I need two managers at this point, one to handle booking me as a DJ, another to help connect me with the right opportunities as a lecturer/educator.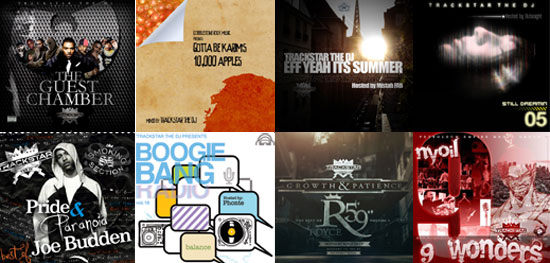 From where you're at, do you see any clear-cut "Future of the Music Business" emerging from where you're at, or is everything still up in the air?
Trackstar: Oh man, I have no idea. I don't think anyone does, or can at this point. Every time I think I've figured something out, the game changes again.
In the short-term, I think acts who put on a great live show and provide an EXPERIENCE in concert are going to be able to find their way to the money, while MCs/artists who are talented on record but can't hold it down live are going to have a lot of trouble making a living. It's the acts whose live shows NEED to be experienced—not just cause you like the album, but because the live show is something in itself—that will be able to tour and build on their crowds. How many acts have you considered going to see over the last few years, but decided against it because you'd already seen them, and the show wasn't THAT amazing? If you don't leave attendees wanting to come back, and tell their friends about how dope the show was, it's going to be an uphill struggle making a career out of music. A solid show isn't going to be enough any more, I don't think.
As far as actually selling CDs, mp3s, etc…..who the fuck knows? Lol…
What is your advice for emcees who are preparing their first real-deal mixtape? Are there common mistakes or barriers to entry you see most folks struggling with?
Trackstar: Well, this question kinda threatens to take the thunder out of a blog post I'm working on called the Ten Mixtape Commandments, lol…but I'll toss a few nuggets out there anyway.
First off, and I can't stress this enough—think about the product from the listener's perspective. Thirty drops proving that you once met a bunch of rappers who are somewhat famous might make you feel cool…but noone wants to hear that the first time through the CD, let alone on the second listen. Obviously I'm all for drops and mixtape hostings, and the benefits of associating with known artists (it's a huge part of my hustle), but you have to do so tastefully. You want people to enjoy your tape and want to hear it again, and obnoxious interludes and drops can prevent that, even if they like the actual music.
I wouldn't place a strict time limit on a first mixtape, but if you're an unknown artist putting out a project that's over 60 minutes long, you better make sure it's ALL quality. Leave them wanting more, don't make them sick of you before they even absorb the music.
Also, the "I need a girl song, one for the streets, a swag song, and a song that proves I can spit" paradigm is so dead it's crazy, but folks stay trying to do things that way. If your whole tape is about selling crack, one song "for the ladies" isn't going to get you the female demographic. And if you are a lyrical backpacker rapper for 15 out of 16 tracks, one joint explaining that you are "really hood, don't get it twisted", is not going to legitimize you in the eyes of the "streets" (as if that even exists).
I'd also suggest to all new rappers—seriously examine whether you are really that dope to try and make a career out of this, as well as whether you're built for the music biz. Even if you "know it isn't as easy as it looks", understand it's 10,000x harder than you think it is, still. We need FANS more than we need another rapper. You might be good at rapping, but that doesn't mean you need to make it a career. I can make a hell of an ommelette, but I'm not trying to become a chef. And if we're extending the metaphor, to be honest, many of these budding MCs can barely make Ramen taste right.
I'm not trying to be an asshole, I just want to unclog the lanes for the talented MCs, as well as my gmail inbox, which always hovers between 92-95% due to MP3s e-mail blasts. There's nothing wrong with rapping for fun without putting out product and trying to make a career out of it.
Don't Leave Without Good Music…
DJ Trackstar's mixtape work is exceptional. Do your headphones a favor and get familiar with his work: check him out on The Smoking Section. Free, dope music is hard to beat.
comments powered by

Disqus
Featured Articles
More DIY Music Resources
Subscribe to Audible Hype