!llmind: Building a Business off Beats
Posted by Justin Boland on Jan 16, 2011 | 0 Comments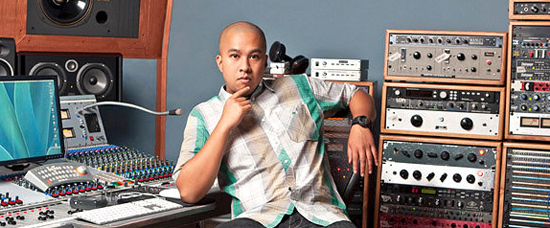 Humble, hardworking and successful, it's hard to beat !llmind as a role model for hip hop producers in 2011. This is the second in a series of Case Studies (the first was Oddisee) focusing on the strategies behind the success stories. The principles behind !llmind's hustle are pretty straightforward, but as you'll see, actually implementing them takes serious discipline and patience.
In The Beginning…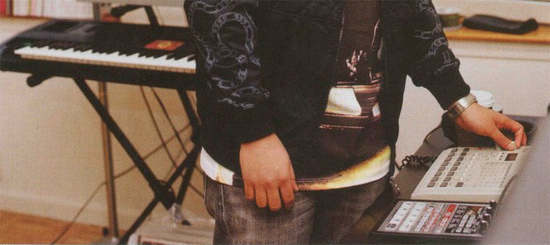 !llmind was probably destined to do this. "I started messing with beats because I come from a pretty strong musical background," he told Mass Appeal. He was not kidding about pretty strong, either: as he casually notes later in the same interview, "my older brother, his name is Les Paul."
Not enough attention is paid to origin stories in this industry. The real stories, I mean…the non-photogenic ones, the million little failures and the daily doubt of unpaid grinding. Considering that famous rappers and producers are basically superheroes, that's a damn shame. Unless there's a marketing point as obvious as nine bullet holes through a waxed chest, the struggle that made these great careers possible tends to get overlooked. As much as we glorify the hustle, the actual details are usually humble and mundane.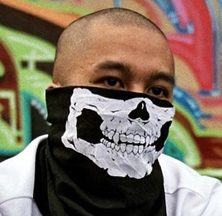 Q: What was the hardest time in your life?
Illmind: "Career-wise, I'd have to say when i first decided to drop everything and go music full time. The struggle is where it starts, and I was dealing with a lot of pressure from my family, friends, and people doubted me. Not to mention financial issues as well. That's just part of the game."
A core part of paying dues is learning to take criticism without catching feelings. (Love Thy Hater.)
!llmind, just like Oddisee, places a high value on honest feedback, and throughout his career, he never gets cocky. He remains a student of life, and stays open to tutoring from mentors and influences like Sha Money XL, Big Dho, Kanye West, and Duck Down mastermind Dru Ha.
"Back in like '99 or 2000, I started posting my beats on various online forums, one being undergroundhiphop.com. People liked my stuff and I slowly got my name out there. One thing led to other things and the rest was history. Back then posting beats online was a new concept. I was literally on dial-up, uploading beats at low quality bit rates because them shits took too long if they were high quality." — from Sonic Scoop
Paying Dues and Other Timeless Classics

In every interview I can find, !llmind keeps coming back to the theme of The Resume. As a producer, your album credits are the gold standard of business credibility. !llmind will tell up-and-coming producers to invest years in getting free beats to dope, established artists, and his discography makes it clear he got started by doing the same.
This is pretty much your only available path for getting money out of this business: build your resume.
!llmind: "When I started, I had no information on where to start, where to go to shop my beats…so the first thing I started doing is just shopping myself around. You know, you approach it kind of like a job. You're not going to start with an $80,000 a year salary. Really, in the beginning, you're kind of an intern. The first two years I started doing this, I didn't make a dime. But it was worth it, because at that point, you're building a catalog, you're building your network."

As you watch !llmind's career progress, you see this simple strategy working for him again and again: Akrobatic, Supastition, Little Brother and Skyzoo are all proof. Each time, he starts with a single placement, then leverages that into more work. First it's a few more beats on the next project, then it's a majority of the tracks on the album after that — or a full-length collaboration project, such as his album Live From the Tape Deck with Skyzoo.
There's another side to getting your beats on real albums, though: long waits for money. "When I get placements, whether they're major label or indie, I don't see a check for at least four months, five months, sometimes even a year." !llmind's solution for that is pretty much the industry standard: staying busy and networking constantly.
!llmind: "Everything in the production game is about relationships. Who you network with, your relationships, and how valuable you feel your music is. My relationships with Little Brother, Duck Down, and various others have lead to other opportunities that you wouldn't even expect. Relationships are everything. If you have a working relationship with one person, it can lead to something else, and the network grows from there. I credit my relationship with Duck Down to the fact that I was down with Little Brother early on. … Build relationships, and don't burn bridges. That's all it's about."
Getting a Name, Building a Brand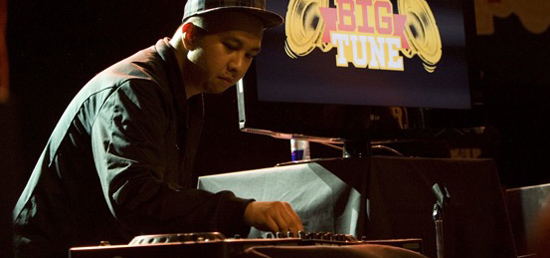 In 2008, !llmind won the Philadelphia Red Bull Big Tune Beat Battle. (Or, I guess, PRBBTBB for short?) He put in years of work to earn that experience, though — as he recalls it, "I got my start with the whole producer showcase, battle thing in Philly, doing this event called Beat Society. That was really innovative at the time — this was around 2001, I think, so I was a newbie back then."
By 2008, though, he'd already been signed to G-Unit, done tracks for Boot Camp Clik and Scarface, and beaten Kanye West and 88 Keys at a legendary 2002 Beat Society event. It's a testament to the !llmind philsophy that both of those producers remain friends and collaborators to this day. As you get a sense of how huge !llmind's invisible network has become, you can get a sense of what's really going to replace record labels in the long-term: exceptional artists who can balance prolific, quality output with creative, profitable promotion work. He's created an informal organization with serious clout, all built around the foundation of his name and brand. Whatever that means, right?
"Labels need to rework their business models. Start taking chances. Look what happened late last year, you had Talib Kweli sell 70,000 units the first week, that's incredible for an artist like Kweli, then you had Swiss Beats who had every number one joint on the radio come out with an album and only sells 40,000. That says a lot about the game. That's not taking away from Swizz, but that just an example of these major label "models" not working." — from Scheme Magazine, Feb. 2008
Unlike most artists (and bloggers) !llmind has more than just criticism about the industry — he's also got a proven business model that does work. Let's break that down next, because it's a template worth learning inside out.
The Power of Affiliate Business

As Prof. Ludacris says, "The more you do on your own, the more you own."
Although there is tremendous potential in getting a group of artists organized to promote together, at the end of the day, someone is doing a hell of a lot of work to make that happen. Every hip hop producer has put together a project with a bunch of different rappers — and if they don't do it in 2011, some blogger will graciously do it for them. So what separates the runaway success of the Blaps, Rhymes and Life mixes from the usual producer mixtapes and guest spot compilations?
Just two things: Planning and Execution.
!llmind built the strongest free release he could and turned that into a repeatable template for future projects. It's not a mixtape series at all, it's an actual affiliate marketing business model for selling his beats. When an underground artist, like Philly phenom Truck North or Vermont's own Burnt MD, purchases an !llmind beat they're not just buying into name recognition. Fashion is fickle, but !llmind provides real value to his customers because of the platform he offers.
!llmind: "It bridges the gap between underground and mainstream…and at the same time, I get to showcase my music."
He partnered with Dub MD to reach an initial mailing list of 65,000 people. Even assuming the list is 50% hggnkvksh@hotmail.com, that's still a massive blast radius. Since the first installment, that's grown to more like 125,000 addresses on the list, with over 200,000 downloads for BL&R now, and guaranteed placement on the entire New Music Cartel network, too. As opportunities go, !llmind is offering one of the most total packages around. That wasn't enough for him, though…
Building Quality, Profitable Events

!llmind has also expanded into a successful event that serves as ready-made platform for BL&R record release parties. After learning from Beat Society and Jonathan Moore, who took the Big Tune brand from a successful Seattle event into national tours and Red Bull sponsorship, this was a logical next step for !llmind to take. "Beats * Love * Alcohol * Party provides a built-in audience for whoever !llmind wants to network with — which is not a bad way to be. With an eye towards building a national brand, he's also been branching out into test events in other cities.
Long Term Goals, Big Picture Plans
!llmind: "I try to not just be a producer or beatmaker. Creating music is the essence, but I'm all about taking my career to another level and really being an entrepreneur. I do a bunch of things outside of just making beats, like teaching music production at Harlem Children's Zone and NYU, throwing events, and doing creative things to market it all. At the end of the day, they all pretty much tie together into the whole brand. It's fun."
So when !llmind advises young producers to "stay busy," you can see that he's not talking about smoking twice as much weed in your bedroom and quitting your day job to make beats. He has found dozens of ways to stay busy outside of making tracks. He doesn't just produce, he networks producers, he promotes events for producers, he teaches classes on production…talent scout, A&R, and real deal, self-made CEO.
The next time you're feeling exhausted, think of this guy. There is always more to do, more to learn, and more to build.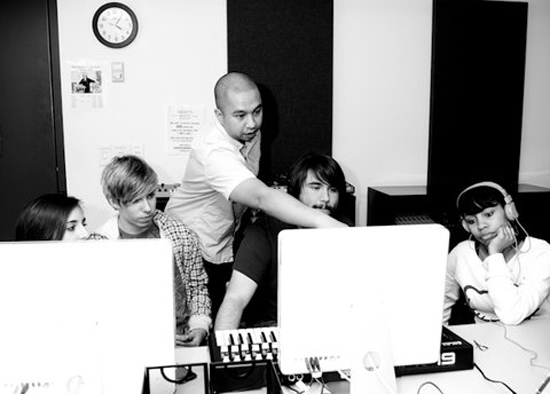 Further Illumination
!llmind would like to recommend a couple books to you: Think and Grow Rich,
by Napoleon Hill; Getting Things Done,
by David Allen; and The 48 Laws of Power,
by Robert Greene. (For what it's worth, I strongly co-sign all three - they're essential reading for anyone who wants to focus on a career as their own business.)
!llmind's Five Laws of Power (Abridged)
Law 5 So much depends on reputation. Guard it with your life.
Law 8 Make other people come to you, use bait if necessary.
Law 23 Concentrate your forces.
Law 29 Plan all the way to the end.
Law 37 Create compelling spectacles.
Related Articles
comments powered by

Disqus
Featured Articles
More DIY Music Resources
Subscribe to Audible Hype