Patric "Astroblack" Brown
Posted by Justin Boland on Jan 03, 2011 | 0 Comments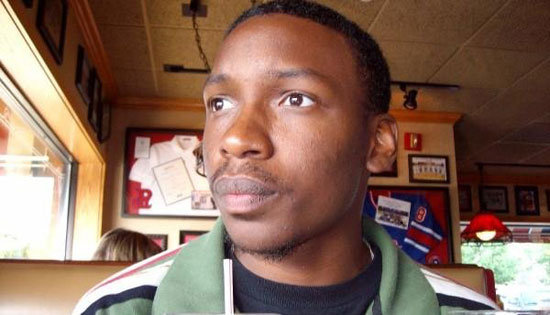 In the music business, there's nothing more valuable than smart, hard-working and genuinely friendly people. That's exactly why Patric Brown had such an awesome 2010, and that's why we'll be hearing more about him in the future, too. I've been interviewing artists for a long time on Audible Hype, and for 2011 I want to expand into other industry roles. Patric — known to many thousands of hip hop heads around the world as "Astroblack" — has serious experience working just about every angle, from merch to management. He dropped a lot of gems here and I'm grateful for the interview. Dig it.
AH: Probably the one question I get asked the most is "How do I get started in the music business?" What was your journey to working with Black Clover?
Astroblack: Hah, I used to ask that same question so I'd be glad to answer: constant work.
I started out on the street team for Rhymesayers Entertainment a few years ago, just doing local stuff in my city with my guy Josh. The street team had an online message board and I was pretty active on it; a few artists and staffers of RSE posted on there as well so I figured I'd get my leg in the door a bit more by introducing myself to the upper brass directly. Eventually I hit up Jake (what up Jake!) who is pretty much RSE's online presence and told him if he needed any help with anything on the web let me know because I'm pretty savvy. He got at me one day and I helped out with a few projects here and there, so we formed a friendship off that.
One day Mac Lethal's site got hacked and he was absolutely panicking. Jake didn't really have time to deal with it, so he asked if I could do it. I was familiar with the sites software so I said sure. And well, it just kind of went from there. Mac kept asking me if I could do stuff, I kept saying yes, and eventually him and Jeremy recognized my talents and just brought me in. So just build up contacts and make sure your name is known, take a shot at any possibility you may see to put in extra work, be dependable, lose some (read: a lot) of sleep, work hard and eventually you'll get to where you want to be.
I used to be one of the kids in the crowd wondering what it's like to be on the road constantly and performing onstage; now I'm twenty-one years old and get paid to travel the world and yell at rappers. ANYONE can do it, just work at it.
AH: Any advice on yelling at rappers persuasively and effectively?
Astroblack: You kind of have to be an asshole. Mac is pretty on point though, so rarely do I have to be like "yo man we have to go NOW" or whatever, but sometimes as a tour manager you have to go there. Just be stern. Don't worry about it they get pissed during the tour because they'll always appreciate it once the tour is over.
AH: What's your daily routine like? What is the actual "work" you're responsible for?
Astroblack: I work a full-time job during the day and manage anything Black Clover related in the evening. So while I'm at work I wait for e-mails from Mac and/or Jeremy saying something to the effect of "yo can you do this for me?" And then when I get home I knock it out. Sometimes it's small, sometimes it keeps me up until three in the morning, but either way it gets done and I enjoy the hell out of it.
Mainly, I take care of all of our websites (Lethalville, MySpace, Facebook, YouTube, etc) and make sure everything is up to date with what we have going on as far as tours, new videos, and songs, and whatever special projects Willis and Mac want me to do. Beyond that I'm tour manager/hypeman for Mac whenever we go on the road.

AH: Have there been any social networks or web services you've signed up with, and later given up on and stopped using?
Astroblack: No, we mainly stick with the top 3: MySpace, Facebook and YouTube and our own website, Lethalville. I'm not with the whole signing up for every website deal. All of those sites out there are not very effective in my opinion; for one last.fm or iLike you have one thousand others just like it. Try to stick with the sites that you know will get the most benefit from and maximize your presence there. And also, take a lot of time building your own site. As ubiquitous as a presence a Facebook or a YouTube has, those sites will eventually die out as the internet ages. As long as you have a thriving career your very own website should always be active, so take time to build exclusive content for your own site so fans will check there first before any other place. All of those web 2.0 sites should just be extensions of your own website to draw people in to the main course.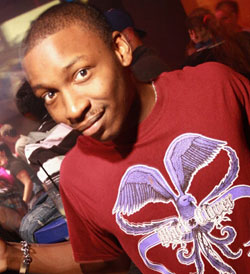 AH: What are the most important lessons you've learned about staying healthy and organized on the road?
Astroblack: Being organized is key, I learned that the hard way on my first tour. Since then, I've learned to carry a backpack EVERYWHERE with a binder with important information for the tour inside of it like merch counts, venue addresses, promoter info, guest lists, etc. I have a smartphone with a little notepad app so I write things in there to remember before we get to our next show too, that's really handy. As far being healthy I wish I could answer that, because I eat like shit on the road. As time goes on that'll probably (hopefully) change, so I'll get back to you on that.
AH: What are the most common mistakes you see artists making on the road these days?
Astroblack: Just not being prepared, lack of organization in their operation. We've been at a few shows where some of the openers stopping through town get their time cut short because of problem X or issue Y. Have all of your songs backed up and your equipment tested thoroughly before hitting the road, don't wait until before you go onstage to do a check. Can't stress that enough.
AH: Do you think it's possible for an underground hip hop artists to blow up in a matter of months…or is it still a process that takes years, city by city? Is there any substitute for the work of touring and paying dues?
Astroblack: It's very possible to "blow up" quickly depending on how that particular artist decides to play the game, but city by city and fan by fan will always be the best way to go. It's essential for you to take your time and do everything independently for as long as possible. Build your buzz by building your brand, that way you get to know your fanbase and how to promote your products to them. That's of extreme importance. If you take the time grind it out, no labels (indie or major) can tell you anything about how to market yourself to your demographic; you'll already know your formula for success and you won't have to rely on a marketing experiment or gimmick to "break" you to the public (example: Asher Roth and college). At that point in your career all a label will be able to do is give you extra resources to help you reach more fans of your demographic. Knowing your core fanbase pretty much guarantees you some form of longevity in your career.
A modern example of this is Wiz Khalifa. He had a deal with Warner Bros. strictly off of a huge single he had called "Say Yeah" but the deal fell through because Warner didn't know what to do with him. He decided to just go independent; releasing music and touring consistently; interacting with his fans on the net and we all see where that's gotten him. He's all over MTV, XXL Freshman Top 10 (question the credibility of that list all you want, but for an indie act with no major label support or rap star co-sign, that's huge), a twitter trending topic, youtube sensation, etc. Before the deal with Warner neither Wiz nor Warner could pinpoint his fanbase, but since he actually took the time out to develop his brand and get to know his demographic the old-fashinoned way, he now knows how to market himself and more importantly, to who.
Other artists and labels did the same thing and they're all still relevant to their respective markets; Tech N9ne, Insane Clown Posse, Slim Thug and other members of the Swisha House collective, even Three Six Mafia and Cash Money Records were extremely heavy on the indie scene before signing their major label deals. Your career should always start independently because it will benefit you in the long run. Where ever it ends is completely up to you, but as long as you are in tune with your core fanbase, you're good to go either way.

AH: Now that you've put in work with so many different job descriptions and odd corners of the business — what's your favorite position? Where would you like to be in 10 years time?
Astroblack: I honestly have NO idea what my favorite position is because I'm still learning so much and there are lots of things that I have yet to do. As Black Clover inevitably grows we'll just have to see where I end up, but working with artists directly would be ideal, like an A&R and/or producer. Since I'm coming from a musical background that would probably suit me very well I imagine. Until then I'm probably going to have to wear many hats and I'm fine with that.
Astroblack would like you — you, personally — to check out Lethaville.net.
comments powered by

Disqus
Featured Articles
More DIY Music Resources
Subscribe to Audible Hype