"Full Spectrum" - Zilla Rocca ft. Has-Lo
Posted by Justin Boland on Jul 27, 2011 | 0 Comments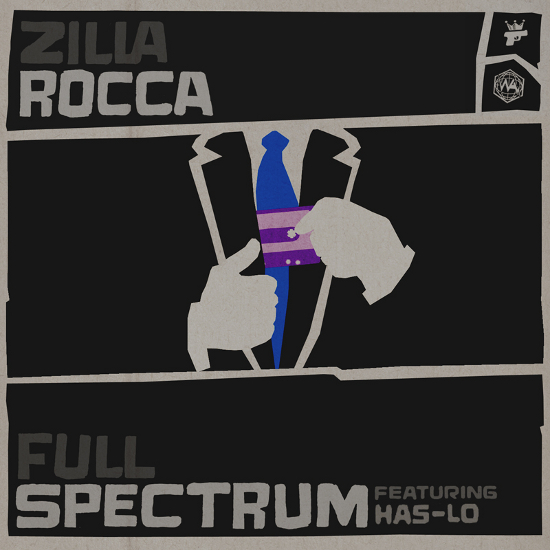 Since Zilla Rocca dropped one of the best articles we've run this year, he's been hard at work on a new project, Nights and Weekends. To kick things off, he's released a single which features Has-Lo and Zilla trading verses over a Dr. Quandary composition.
Zilla Rocca is also running a Kickstarter campaign to fund the production of the album (at a ridiculous discount) as well as an ambitious video for Full Spectrum that will be shot on Super 8. Check it out:
"Zilla and Has (aka The Wrecking Crew) go all Philly ham sandwich over this moody number from Quandary. Love the guitars, love the visions. Love how Rocca flips a number of lines about "colors", with Has bringing some vivid poetics on the backend. Love this." — Rock the Dub
"There's nothing bland about Zilla Rocca's rap palette, which is on full display on his new single "Full Spectrum." Zilla and Has-Lo flip a three-minute tale full of clever wordplay and imagery from a singular theme…" — So Much Silence
"Dr. Quandary lays down a smooth guitar driven beat, coupled with some of the dustiest drums one will hear in 2011. Together Rocca and Has Lo sound pristine painting pictures with words." == MembersOnly206
"Charcoal hands. Purple ties and purple tapes. ZR and Has going crayola, a fresh coat for a tired blend. Indirect homage to Ice-T and straightforward pounds to Edan and Elzhi. " — Passion of the Weiss
What do you folks think? Everything we post on Audible Hype is from artists who value feedback — whether you're feeling it or not, let us know what you think of the track.
Related Articles
comments powered by

Disqus
Featured Articles
More DIY Music Resources
Subscribe to Audible Hype