Kydnice on Life as a Travelling Engineer and Producer
Posted by Justin Boland on Apr 06, 2011 | 0 Comments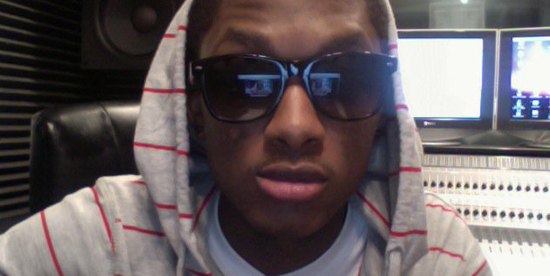 One of the most important and least respected jobs in the business is audio engineering. From the Front of House guy running your live show to the session engineer sitting behind the boards while you record tracks, it's easy for most of the industry to ignore them. Except when they fuck up. The cats who do pay close attention, though, are the same guys who really matter on the business side: producers, actual surviving label execs (they do exist!), producers with discerning ears, smart managers, and artists with the cojones and attention span to run their own circus. Kydnice is proof that it can still be a full-time job in 2011, too.
"Mr Mix Yo Song" is professional mix engineer, and here he's opening up about his life's work. He talks about how he got into it, what gives him his competitive edge today, and shares some hard-won business lessons…
AH: How early did you decide this was the career you wanted?
Kydnice: Well, to be honest I NEVER figured I'd be an engineer, I'm really a producer at heart. I started working at this studio not too far from my house in high school and the owner there allowed me to "play" on his expensive equipment and I naturally taught myself to record, mix & edit. By the time I was 17 I had my own clientele, and was already pretty decent at mixing. The same year, I graduated high school & moved to Florida and attended Full Sail University where I took my skills to the next level. After school I got an internship at the legendary Quad Studios in NYC, the rest is history.
AH: What was your first month at Quad Studios like? Do you think Full Sail prepared you for that?
Kydnice: My 1st month I felt like a custodian (LOL!!). I wasn't really sitting in or working on sessions yet, I was pretty much doing setup/breakdown and cleaning up after sessions. Most of the time it wasn't a big deal, I had no problem cleaning because I knew what I was working towards and everyone pretty much has to go through it…but then there were times I hated it…like after a bunch of rappers come through and TRASH the studio leaving food and bottles everywhere. One time after a session, we found ash all over the million dollar SSL where they had been ashing on the console and putting out blunts. Full Sail teaches you all the technicalities but nothing can prepare you for the real thing.
AH: What are you using for equipment these days? What's your minimal travel setup?
Kydnice: My handy dandy MacBook Pro and my flashdrive is all I travel with. I travel A LOT and I work at various studios all over so sometimes I have no idea what i'm getting into. I'm pretty much familiar with ALL industry standards and can walk into any situation from a small setup like a ProTools rig with a Digi003 to a larger analog setup like an SSL 9000J with tons of outboard gear.
AH: How do you approach data backup? Do you keep copies of all your session files after the gig is done?
Kydnice: When it comes to data backup you can never be too careful. In most sessions with major artists management won't allow the engineer to keep session files, that's usually the producers job or the artist will usually have a dedicated drive they keep everything on and travel with. In the event you are allowed to keep sessions (or own a backup) I usually have a small hard drive I carry with me that is dedicated to music and music only. In addition to my own personal HD I will burn a session DVD. Also, just in case I'll zip the session files and email them to myself.
AH: When you get booked for a gig, are you usually engineering single sessions, or mixing entire projects for people?
Kydnice: On a day to day basis, I'm usually doing recording sessions, bouncing around to different studios. Entire mix projects usually take a little more preparation to iron out the details because its such an important process of a project. Although I love the art and process of mixing I can always appreciate a fun recording session because thats where the artist, producers & songwriters are most creative!

AH: What's your favorite city to get booked in?
Kydnice: I'd have to say New York City! Its not only because NYC has some of the most legendary, top flight studios, but theres just something about being able to get some good food at 3 o'clock in the morning in the midst of a long evening session.
AH: Do you have any advice for new engineers on dealing with "problem" artists and tense sessions?
Kydnice: When dealing with a "problem" artist, the main goal is to figure out the best way to keep the session productive and remain professional AT ALL TIMES! Its not just the engineer's job to push the record button, its your job to orchestrate the session and make sure the producer, songwriters and artist are on the same page. At the end of the day, management is going to hold the engineer responsible for the outcome of the session no matter how ruthless an artist acts because well… . they're the artist!
AH: What kind of gig would you actually turn down? Are there warning signs you've learned to look for?
Kydnice: Thats actually a good question. As long as its good business and the client is handling it professionally there aren't too many gigs I'd turn down. If I we're to turn anything down, it'd have to be a gig that doesn't involve any benefits for me & my business. I work hard at what I do and I've gained enough experience and credibility to be paid for it. Let me make it clear though: its NOT always about money. There are other ways to create an equal exchange of business. For instance, I may need keyboardist or guitarist to play on some of my records and they may need some vocals mixed for something they're doing and so on and so forth.
Warning signs for me are artists who invite you to a session or a show to "hang out" without knowing you personally. Usually thats a sign they are expecting to "impress" you into working for them for FREE. I'm down to work with any project or client as long as the business is right. At the end of the day I love meeting new artists and hearing new music, this is what I do!
AH: Long term, would you rather be doing audio engineering or music production?
Kydnice: Production hands down! Engineering is a part of what I do as a producer (or any producer for that matter). Being a producer isn't just about making beats. A true producer does a combination of A LOT of things, engineering included. In the long run my heart lies in production, I'll still probably still mix on the side for some extra cash though.
AH: What advice do you have for kids looking to follow in your footsteps and get a job as a professional engineer?
Study, learn, research and perfect your craft! You must OBSESS over making yourself better, and keeping up to date on the newest trends in music production. Expose yourself to different genres and pay attention to the mixes and how other engineers design sound. The only way to become a dope engineer is to do it constantly over and over again. No ones school or music program will teach you to be an engineer or how to interact with clients, you will only learn that from actually doing it. There are so many FREE resources on the internet these days regarding gear, techniques and advice. If you have expendable money to pay to go to a school for Recording Arts, thats cool, and you will learn the technicalities but i promise you won't be able to walk in a major studio and just run a "Beyonce" session. Your going to screw up a few mixes but thats totally ok, its all about trial and error. There is no right or wrong way to mix and when all else fails … use your ears! A/B your mixes to the music you've been listening to your whole life and if it doesn't sound right, reset and start over.
Shouts to audiblehype.com for having me and I hope I answered everything accordingly. If any aspiring engineers or producers would like to contact me for tips or advice i'm always open to doing so. You can email me at TheKydnice@gmail.com, hit me on Twitter @kydnice or my blog KydToonNetwork.com. Thanx!
Related Articles
comments powered by

Disqus
Featured Articles
More DIY Music Resources
Subscribe to Audible Hype