How to Take SXSW on, Even if They Didn't Take You
Posted by Kosha Dillz on Mar 04, 2011 | 0 Comments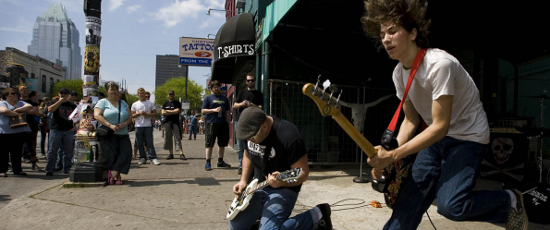 Ok. Ok.
2000 artists were accepted and over a gazillion applied. If you got accepted, there might be something special about you. If you weren't…there still can be something special about you. In the end, who honestly cares? We are all on the same team (I believe this and you will too) and this article will explain 10 awesome things you need to bring down to Texas besides a cowboy hat, to make sure you come back with a bunch of new assets besides a hangover, empty pockets, and a stomach full of BBQ chicken.
I have created the Dillz List. This list is applicable to anyone, anywhere, anytime…but especially to you, at SXSW, this year.

1. A Plan.
It's your first time down there, or your 2nd time down there or third time down there. Each year is different then the next, but whether you are official or not, we need to create an agenda, a plan of attack and execute it, from networking with the right individuals to finding a publicist or reconnecting with old friends. Make a plan.

2. Homebase.
SXSW is one giant cluster fudge pop of a place and there are 80,000 things going on amongst a city of 100,000 concert goers, tech nerds and film freaks. When i go to Austin I hook up my homie Sean with a nice amount of $$ to stay at his place which is a clean/sober environment. Since I am out at 10am running around city working till 3 am playing gigs and slinging discs/swag I need to come and rest in a place that will at least be safe and not filled with low life vagabonds who attend SXSW in a form of spring break. I am going to be there from March 12th to the 19th with nearly a dozen appearances and 7 full performances and counting. I'll need to chill, shower, and do it cheaply. No place like home, especially when you are on the road for a long time and cant afford the Hilton for 7 days.

3. FlipCam with your Pimp Hand
A Big camera could be really intimidating during SXSW. So many Press people are shoving those bastards in your face (thats good) but we don't necessarily want to go around with these huge cameras the entire time. If you are an artist /brand/film especially, create something that is appealing to other artists and get them to say positive things about what they are doing. Then ask them to say something about you, your brand, musical project, or catch phrase hash tag that may be your social media hashtag. For instance, I'm on the "give me Five Tour." I want to interview my friend Asher Roth about his killer project with Nottz, and I'm sure we might bust out a shout out for some other peeps or my latest project "Gina and The garage Sale" or The Give Me Five Tour, etc.
It doesn't always have to be artists, it can also be random drunken people in the street that like your movie , "The Death of a Funeral Singer," and bust out in song about macaroni and cheese and dying and funeral singers. Flip Cam's are key for such epic moments.

4. Don't get wasted into Oblivion
This is pretty simple. Just remember that people are also watching you as you are exposing yourself. Bloggers, reporters, labels, agents, managers, publicists you want to link with are all keeping their eye out on people to work with/and not work with, and so should you. if you are what you are supposed to not be down there, you can ruin future business opportunities including a slot in the film festival/music festival.
Don't be that bitter drunk in the front row belching about how you should be onstage…that's a great way to guarantee you don't land a gig next year, either! Remember, you never know who's behind you.

5. Support your Friends
Yes, I know you are promoting yourself the entire time, but it would never hurt to be at all the events of your friends. Jah C from Jah C and the Antidote said, " I'm gonna be supporting my friends when I'm not working, and I'm always working!" When I heard this it put a big smile on my face and I thought to ask him to perform a song we just did with me at one of my performances during the week.
I also recall Homeboy Sandman at his release party @ SOB's for The Good Sun LP. "We did it NY! We did it!," he exclaimed, in regards to his packed out underground show. "Support your friends, support your friends…" Homeboy Sandman has caught more Kosha Dillz shows that anyone I know since 2008 besides Flex Mathews who wins because he is always on tour with me.

6. Support Other Acts
Supporting other acts is one of the most important things on the DIY totem pole. There is no I in Team.The thing I was reminded was that in the midst of all my stuff, organization, CD pressing, promotion of ME, I am quick to forget about the beauty and then wonder why my friends/other acts don't come and see me. It is because we are so caught up in our own bullshit that we forget about them and their goals, whether its music, tech or cross fit.
Today I'm gonna go and make sure I check out the acts I want to build with, and other acts that need my support because its their first unofficial showcase/official showcase and its awesome to be there on the road. I'm gonna see acts like Tennis and Kyle Rapps and Zeale. I'm also gonna see a completely random act and buy their CD.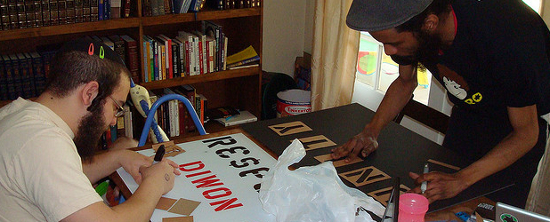 7. Prepare Swag to Pass out, don't pass out w/ Swag.
From early morning you need to hit that town and leave it no holds barred. You need to walk with a sign that says "Kosha Dillz is Everywhere" or Y Love. This is Babylon. You must have 5,000 fliers and stickers and personally hand them out and mention your name all day. You must also ask your friends to pass out 5 of them to their friends at the next event. If you are getting trashed at the bar with a band or some female drummer you wanna shag, you will pass out with swag. That is a no no.

8. Social Media
Facebook and twitter are powerful tools. If you are meeting someone and want to take the lesser approach of talking more (if you are a singer this is tough) ask them if they can tweet you and you can RT. Better yet if you have product that is tweet-able, like free download or Itunes link or website for your field of work, that is really awesome opportunity.
I am actually forcing my album out there on itunes before SXSW, "Gina and The Garage Sale" and I will ask you to tweet the link and post a comment from your Iphone 4 on the itunes site. I will also ask you to RT hypem.com links and my hashtag #givemefivetour when I arrive down in Austin. If I have an Iphone 4, I will probably film you freestyling about your project, interview you and post it right to youtube mid conversation. Once I do that we can RT links to your followers and we have great video that everyone wants to see who couldn't make the trip.

9. Soft Merchandise/Teeshirts:
I can't say how important it is to advertise your stuff to people you want to work with, with a free tee shirt. How many people will be given CDs? I actually sell my SXSW CDs at a garage sale (hence, my album "Gina & the Garage Sale.") The chances of them all listening to it are slim, but I got one way for sure you will get that review — T-shirts!
a. People need shirts because they're very sweaty and nasty.
b. great pic opportunity
c. Buttons are also cool if you can't afford to give a tee shirt.
d. People remember spending 6 dollars for a promo tee shirt rather than 50 cents on mix tape/cd,
I'm gonna make a shirt that says "Kosha Dillz Gave Me This For FREE" (or at SXSW)
10. Be Grateful
Tell people good luck, congratulations on their performance spot,and how it is great to meet them. Take pictures with everyone. Give people hugs. Tell them they're great. Buy their stuff. No one is doing that and you must separate yourself from the rest of the pack. In 2008, Krispy Kreme of The Knux bought my tee shirt randomly from me at a show before I knew who they were. Next year I returned to support them at their show and me a man named Edwin from Amsterdam who was also checking them out. Later the next year I went to Edwin's club and left him a CD while on tour with Matisyahu. Later that year he came to see me at my first solo official SXSW gig and put me on tour with Snoop Dogg in Europe.
Remember when no one is watching, everyone really is. I write this so I watch myself,. I can't wait to support my friends, make new ones, and fall in love with some awesome jewish rock chick along the way and get married and run away to Israel or new jersey or LA with her. Ok. That's a whole other conversation anyways…what are you waiting for..
You finished this article… be grateful , NOW GO KICK SOME ASS!!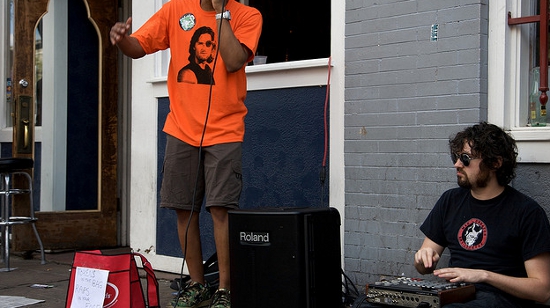 Kosha Dillz is an official SXSW artist of 2011 and is playing his showcase at 10:30 on March 18th at the Marq. Make sure you catch it and tweet #givemefivetour to help him raise money for the tiptinasfoundation.org in New Orleans on nickel at a time!
About the Guest Author
Related Articles
comments powered by

Disqus
Featured Articles
More DIY Music Resources
Subscribe to Audible Hype