Crew Love
Posted by Zilla Rocca on Aug 28, 2014 | 0 Comments

Juice Crew. Wu-Tang Clan. Boot Camp Click. No Limit Soldiers. Quannum. Heiroglyphics. Okayplayers. Native Tongues. Living Legends. Anticon. Hit Squad. Def Squad. G-Unit. Brainfeeder. Weathermen. AOTP.
Here's a secret about the history of hip hop: crews always work. Sometimes crews are born out of industry saviness. Other times they're created organically out of longstanding friendships. Some are assembled like boy bands. Others are a monument of quality and consistency that give jobs and incomes for decades. The point is, you can do a lot worse as a rapper in 2014 than being associated with a collective.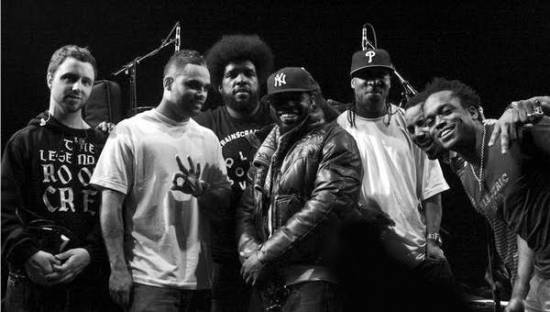 Questlove and the late manager of the Roots Rich Nichols realized this a long time ago, namely that you don't want to be on an island as an artist, especially if you're not doing whatever is trendy. If you look at the landscape of rap over the past 10 years, almost all new artists are solo acts. The pie has been reduced in the business of music; it doesn't make sense to come through with a crew and split pennies earned from streaming revenue or $40 you'd make at a live show. What these guys are missing is creating a solo lane for themselves, and then partnering up with likeminded cats to further their branding and longevity.
Take Slaughterhouse for example: four rappin' ass rappers who had been passed around the industry like a Bob Marley spliff for years. When Joell Ortiz, Crooked Eye, Royce 5'9'' and Joe Budden linked up, their weakness became their strength: instead of flopping on their own because their styles weren't industry friendly, they became a rebellious collection of spitters trying to outdo each other on every song. Joe Budden had been dropped by Def Jam, Ortiz dropped by Aftermath, Crooked Eye was stranded on the New Death Row, and Royce 5'9' was putting out indie albums and mixtapes. Together, they got a record deal with Eminem, the ultimate rappin' ass rapper. If Alchemist was smart, he'd just slap a name on the collective of guys he's been working with steadily the past 4 years and put out a crew album. Who wouldn't want a collective of Alc, Evidence, Action Bronson, Earl Sweatshirt, Schoolboy Q, Boldy James, Blu, Planet Asia, etc?
The point is to never be on an island.
Here's the advantages of partnering up with likeminded artists:
1. There's less work. You can perform together and instead of holding down a 20-30 minute set by yourself, you get to do a "greatest hits" type of performance where you only perform your 2-3 surefire crowdpleasers alongside your crew members' 2-3 best songs. Audiences are treated to a better show because there's a limit on self-indulgent tunes we all toss into a solo set to fill up a time slot. Plus, the energy of multiple cats onstage creates a camaraderie that audiences pick up on (unless you all hate each other and are doing it strictly for the loot). Think about how much fun "The Avengers" movie was compared to "The Hulk" movies.
2. You combine resources. Maybe I'm really good at promotion but don't know anyone out of state. My crew member might have connects out of state but can't get blog press. My other crew member might have an in with a solid indie label. And another homie might have tons of female friends he can bring out to local shows, which always benefits everyone. If you're on an island, all you have is your own strengths and weaknesses to sort out. When you combine resources with 3-6 other people, you extend your strengths and hide your weaknesses because most likely, you'll have a way to protect your blind spot thanks to another homie who succeeds where you struggle. It's give and take. And if you create a crew name and identity, all of you will benefit down the line.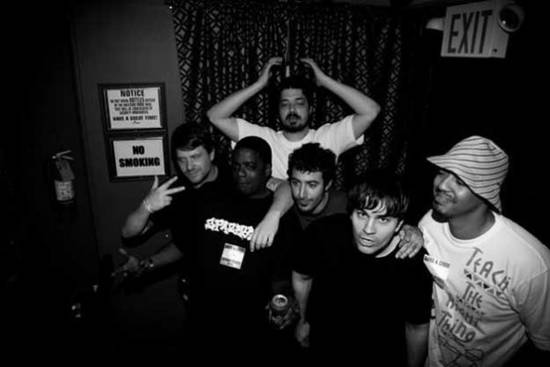 3. You create a context for someone else, as they do for you. When Def Jux was blowing up, the strangest artist they signed, to me, was MURS. He was not from New York. He did not rap about paranoia and the post 9/11 landscape. He smiled, got bitches, skateboarded, and talked about gang life. By aligning himself with El-P, RJD2, Aesop Rock, and such, his sensibilities as an indie outsider made sense, even though he was from the west coast and had a totally different style. His crew, Living Legends, created a context for guys like Luckyiam and Eligh to be understood by west coast backpackers. A crew is really a mission statement about a particular sound, location, or mantra. People who agree with that statement are more likely to check for a guy raising that common banner within a group rather than on his own.
4. Cross promotion. That just means "free advertising". If you look at my clique, Wrecking Crew Posse, we are always in each other's videos, on each other's album, and often booked to play shows together. That means that if I'm in between albums, I still can be seen on blogs, on YouTube, or on stage because Curly Castro, Has-Lo, PremRock, Small Professor, Castle, etc are active. I don't have to always be pumping out new stuff in order to get shine. My name and face is still out there for free. Some of us put out stuff with labels, other's don't. Some tour non-stop, some just make beats all day. The point is, we're all being heard because everyone separately is always doing something, and because we're likeminded, we pop up on each other's stuff fairly regularly and quite easily.
5. You have a sound board for ideas. The best thing about being around likeminded individuals is that they often have the same points of references, are close in age to you, and appreciate your individual style. That means they can point out things to make your show/album/press/artwork better based on strategies that worked for them. You're getting free consultation based on experience.

There are no downsides in being in crew. I will say that its best to let it form organically – Wu-Tang Clan is the most successful crew in rap history, but all of those guys knew each other separately for close to ten years before they formed like Voltron. They still fight and bicker as forty year old men, but the bonds they have are almost thirty years old. That's something that takes a lot more than bad album sales to fully sever. If you look at our friends Hellfyre Club, all they did was a slap a name on their friendship and win. Busdriver, Mike Eagle, Nocando, Kail etc were all friends in the LA scene for years, touring and putting out albums, before they put out Dorner Vs. Tookie as "Hellfyre Club". Their solo endeavors, when partnered up, created a context for milo, Anderson Paak, and more to thrive.
To paraphrase Dame Dash, rap attracts insecure, competitive men, so if you have a crew, you're going to have to deal with headaches, egos, and petty bullshit every now and then, especially if you're in your early to mid 20's. And since rap crews are made up on individual artists, all artists go through fads, changes, and artistic growths that might not fit in with the bulk of the gang's mindset. That's ok. Again, you have to anticipate that happening. If 5 guys all stay the same over the course of several years, something's wrong. But when you clique up with likeminded individuals, you're entering a world of collaboration, crosspromotion, artistic challenges, and camaraderie you've probably lacked since you stopped playing organized sports. Sometimes you'll hate each other. You won't always love everything the other guy creates and vice versa. But you won't be on an island by yourself with limited resources.
About the Guest Author
Related Articles
comments powered by

Disqus
Featured Articles
More DIY Music Resources
Subscribe to Audible Hype