5 Ways to Stay Public When You Can't Afford a Publicist
Posted by Kosha Dillz on Aug 17, 2011 | 0 Comments

Imagine I'm a publicist, a good one, who specializes in hip hop. Imagine you're trying to pitch yourself to me.
So you're a really dope artist. Respect. Congratulations. All the blogs are down to talk to you becuase you have a cool story/style but you are too busy swagging out your rhymes in the studio which you need to pay for (if you want to get the job done proper), It's a great look for you to take a flight out to Cali to do some shows and there are also some spots out in Minnesota and Michigan and….you also have to get fliers and stickers pressed up and…damn, you got the new collaboration song coming out with this guy named XYZ and this band _ did a remix.
OK, OK, I hear you, I get it. You're broke.
Or you have other expenses that are more important like a. rent. b food. c. car insurance d. flights e. child support f. health insurance g. phone bill h. merchandise….and somewhere around "o. or p." we would finally arrive at "hiring a professional publicist."
Since you're trying to increase your buzz in public and times are tight, I have come up with 5 ways to increase your buzz and internet presence/google alerts.
1. Social Media campaign
Twitter and Facebook are two of the most important things in the world, next to the war in Afghanistan, Jdate and Shark Week on the discovery channel. If you can learn how to develop your own identity on here, its almost the same of you hosting your own morning show. Twitter takes D level actors and launches them into C , B and A level fame. Utilize this place to share your songs with bloggers and writers, even if they dont post. Just say hey…"I made a new song, tell me if you like it at 1:57 where I say Alabama and ALi Baba in a rhyme." That is more likely to get a response then "@hot97 stop hating on me and play my shit." This is one way we will never play your spam. DO not spam. this campaign is a campaign of no spam. Its a campaign of being yourself. Oh yeah, start a Soundcloud page! Links rule in social media, not attachments.

2. Clever Song
I can only tell you that for one i did not have a lot of money for Freestyle vs Written but we did have some keen thinking. The song "I love Jews" made it into Spin Magazine because it was genius idea more than a great song (sampled the Delphonics la la la la i love you song)
I made a song called "Ariel Sharon," after the controversial Israeli military leader. The song had nothing to do with him but still made everyone listen. Das Racist made a song called "Michael Jackson." Mac Miller has "Donald Trump." These songs also were also about famous people but really weren't about them. When I record my "Macaulay Caulkin" song, you will all make sure you play it on your christmas radio shows because you might be "home alone." (Bad joke, I know.)
These songs will get press naturally more than a song like "keepin it real' " and "I love the game" songs.
3. Message boards and college radio
Although you think that they may be obsolete, they are free zones to post music share links and start threads on what is hot and what is not. Good boards are ughh.com or hiphopsite.com to rapmusic.com and absolutepunk.com — go there post other peoples links and then post yours…Vlad.tv even has a user page to upload your videos. You can go to rootmusic.com and set up a bandpage. Send links to college radio (just google it) and contact your local station via phone (Rutgers NJ is 88.7). I call in all the time and request music (not always yours). People get so excited they give you their email and then they play it, document it and have you up. Message boards were here before all forums (aol chatrooms) and continue to work.
4. Be the Local Hero.
If you want to save money, build locally. Homeboy Sandman conquered everything locally (attending friends shows, throwing shows, and guest appearing) before he began to take on the world, and now scored a deal with Stones Throw. I wanted to do a all ages show in my jersey neighborhood so i got a bunch a local bands to help and play a local book store called the Raconteur in Metuchen, NJ. These increase your PR by finding local blogs smaller, with real people, and keeps you in word a mouth, the best form of any PR. Now you have message boards talking, local college radio, and more. You even help out in your community and people enjoy having you around. And you are paying your bills and not spending money on a publicist. Atleast this way you become the guy to go to in this city, whether its NYC with Homeboy or myself, Oshkosh, WI with Derill Pounds or MC Pig Pen in Salt Lake City. We have Split Personality, TImmy Grinns or GDP in North New Jersey. Burnt MD is in Vermont. MTHDS, Deca, Mane Rok in Denver…list goes on and on of the local go to guys in these cities. If you link up to do shows with these guys you're in good hands. Their word goes a long way because of the work they have put in. That brings me to my final point, and it's almost as good as a pay check: Favors for a Favor.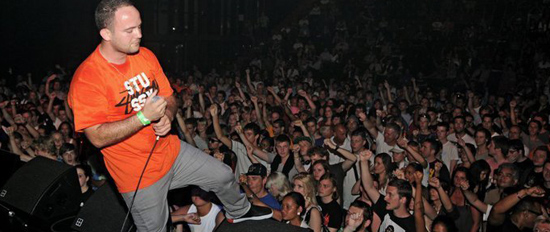 5. a. Favors for a Favor and b. keep showing up
At this point you haven't been able to break Okayplayer news feeds or Nah RIght but still are getting talked about the message boards, packing out the local book stores, headlines in the local paper and more. The key here is to do more favors than you recieve. If you truley believe that good work comes back to you, there is no limit to how many favors you do. Remember, its favors for a favor. You have to truley believe in being part of your scene and part of this work, so you continue to give yourself, show up at shows, invite your friends to other peoples shows, with hopes that people will hit you back.
B. I can only tell you how i showed up to reach out to a guy from Holland that later popped up at my sxsw show in 2010 and put me on tour with Snoop Dogg. Me continuing to show up at friends shows had me meet bigger people watching them.
Bonus: 6. Be Relentless (w. boundaries)
In terms of publicity you must also realize that any press is good press. Can you make it?
Most great publicist cost a minimum of $2500 for a project and single song things done for a few hundred bucks. It does only cost $10 to go to a good show w/ 500 people and pass out fliers (respectfully) Its part of your phone bill to call other people in the press (not someone else's phone bill) and its up to you to humble yourself and get a job (to promote to your co-workers) if you can find a way to promote other people in turn to work your price down with publicicty, do favors, call up your college radio contacts and hook up others when they come to town, drop free verses for fellow bands, sit in with bands to sell cds at the Monday night open mic and write articles or reviews on bands/rappers for other blogs, you might get some things cracking for yourself.
Well…if you are actually doing all this, I assume things are cracking. This advice is free. Its up to you whether you consider it valuable enough to treat it as priceless, is upon you. In the end, realize you have to promote the press. The press doesn't promote itself.
Ideally, you should continue to save money whether is a couple dollars a day so when the time to do all this and all that isn't as much, you can afford to hire some help along the way. That is true when the hustle is working. When so much great stuff is happening that you need to put people on.
That reminds me guys…i have to go to bed now so I can wake up and … pay my publicist…

Kosha Dillz has been staying busy. Check out his recent freestyle on Hot 97 — and if you're digging it, consider voting for Kosha Dillz for the 2011 AC3 Showcase.
About the Guest Author
Related Articles
comments powered by

Disqus
Featured Articles
More DIY Music Resources
Subscribe to Audible Hype