Sneaky Pete: Been There and Back
Posted by Justin Boland on Jun 07, 2011 | 0 Comments
So this interview is about a year overdue. Still, it's such a refreshing slice of venting honesty I had to format it up and publish this puppy. Sneaky Pete has had a long, strange and slightly frustrating career and here, we're discussing every aspect of that. Bad decisions and lucky breaks, live shows and album releases, Sneaky Pete has a lot of experience and no problem speaking his mind — enjoy.
AH: Who do you look up to as an example of "Doing it Right" in 2010?
Sneaky Pete: Rhymesayers seems to be doing it right in 2010. Both in business and art. Even in a shitty ass market like Providence, RI they come in and get 300 people to show up. I was at the Brother Ali/BK-1 show recently and dude def knows how to rock a stage too. I picked up the BK-1 Brazil project and wasn't disappointed.
As far as 'wrekanizable' artists that I look up to and (would) love to work with….I gotta start with my man Skiggy Rapz (beatsbroke records) most recently known for his musical contributions to episode 2 of this season's Jersey Shore.
Another beatsbroke artist: Inf has an amazing project out called "The Go Round" He also did the production on the first single off Monkey Business "U Don't KNow" which charted at #2 on rapattack and was discovered by Luda's people and got me the gig at the 2008 Webby awards.
My ultimate dream (OF COURSE) is to rock over my very own Primo beat and Kanye would be amazing to work with too. Joell Ortiz is my favorite emcee getting that spotlight right now. gotta mention Sean P- bananaz! RIP Ol' Dirty.
Vinnie Scullo, Metermaids, Outasight, McKenzie Rose, Homeboy Sandman, Tah Phrum Da Bush are all DOPE artists on my radar too. I could go on for days with this list…Antoine Dodson is killing it right now!
AH: Do you work with a management team now? Is artist management something you'd ever want to do in the future?
Sneaky Pete: I don't currently work with a manager. I have in the past. Let's talk turkey. Every up and coming artist dreams of meeting this powerful manager who takes their talent and turns it into a career; makes you fists full of money and relieves you of any responsibility other than smoking weed and making "dope" music. But it's a fantasy. Not to say no names: but one of my closest friends was signed to a manager who later became a senior A&R at a major label. He was told to be patient but no offer ever came.
I would love to be offered a management position at a record label. I've certainly been around the track enough times to know how to do the job well. I can also offer a lot of wisdom to "up and coming" artists that could save them making a lot of the mistakes I made early on. I'm constantly scanning the web for new opportunities and networking with other indie artists. Most recently, I've started putting together a catalogue of sample free music to take to tv/film/commercial music supervisors.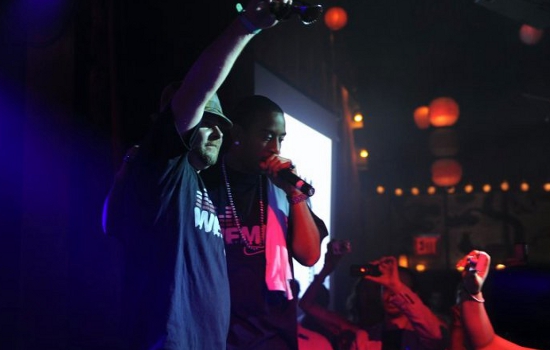 2007. "Sneaky Pete and his brass band are selected to open for Hip-Hop superstar Talib Kweli on the Virgin College Mega Tour. One year later, Sneaky Pete is chosen to represent Wemix.com and perform his chart topping single "U Don't Know" at the official Wemix launch party during the 2008 Webby Awards. Ludacris himself (a partner in the Wemix project) introduces Sneaky Pete as his new protege to a room full of media writers, photographers and taste makers."
So what went down between 2007 and 2010? Was that a gradual fizzle or did you get the sense early on that those ventures were collapsing? It's a hell of an interesting bio you've got, compared to 100% of the other bios I've been sent so far.
Sneaky Pete: Well certainly leaving NYC was a big change in my life…but I hoped at the time that moving "home" would give me more time to focus on music and then I could use the contacts I'd made in NYC to shop the album to labels.
I started promoting the album back in 2008 and never intended to release the album on my own, at least not without a good team (fake it until you make it, you know) but I did as much as I could on my own — paying for the recording, the production, the album artwork. I banged the internet as hard as I could and got invited to do a few high profile performances with Talib and Luda (unpaid of course) and went to a bunch of NACA conferences trying to break into the college tour circuit.
I caught wind of the Ras Kass kickstarter campaign (you should chek out the site if you havent) and it reinforced the concept I already had begun to develop — that is basically putting the responsibility back on the fans to support the project BEFORE it comes out and explaining that you're not just "buying a cd" but actually being part of the creation process, offering bigger incentives/rewards for higher level contributions.
AH: So are you wary of contests, based on your experience, or do you still think they're generally a good opportunity for new artists?
Sneaky Pete: I think all these "contest" winners are pre-determined and they just want naive artists to spread the buzz for them.
I'm wary of anything and any one who tries to treat me as a "less than" I refuse to accept that artists should be desperate for any kind of exposure no matter what the cost to my wallet or reputation — Quid Pro Quo! I've even turned down websites/DJ that "offered" to give away my music for free. Not for nothing, but being track 16 on your mixtape of wack ass rappers ain't really doin much for my career you dig?
It's amazing to me the attitude that comes back from "industry types" when I ask for something as simple as a contract or a guarantee. I certainly won't pay somebody to "review my submission" or give me an audition in front of "Major Label A&R" — I call BS!!
I've thrown away waaaaay to much money on that scam of a website, sonicbids, applying for music festivals and compilations etc. Two words: perceived value. No one is going to respect you if you don't respect yourself first.
On the flip side, something like Talib Kweli's Blacksmith Community Mixtape I think is a really dope opportunity for an indie artist. He ain't askin artist to pay, or garner votes from fans, nothing like that. The fact that a respected and established brand like that would still reach back to "the underground" to look for artists to collaborate with is really rare.
AH: Is keeping up with all the new artists since 2009 a part-time job, a full-time job, or a small startup company?
Sneaky Pete: I don't claim to know or care to know who all "the up and comers" are. I'm not in the target demographic for "hip-hop" (and I use that term loosely) anymore so…I mentioned a few choice names already. The people I still actively check up on. Once in a while, something will come to me through facebook or a blog that perks my interest.
I certainly don't feel the need or desire to listen to commercial radio or watch MTV VMA's or any of that shit anymore. Even the artist who had the greatest influence in the development of the Sneaky Pete character and really made me believe that music was worth any sacrifice…I aint really feelin' his latest album that much.
It's sad to me…but I get it though. Time waits for no man. Teenagers today want their own thing as much as my generation did. Wu-Tang Clan, Gangstarr, De la Soul, and Redman (as great as they were) are simply icons of the past. I'm pretty content going to "Thursday Throwback" night and attending my annual Rock the Bells concert: rare moments when they reminisce over you and the days when I used to love h.e.r.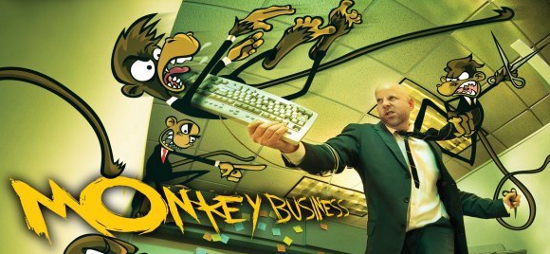 AH: What is your favorite setting for shows? What's the best environment for making money with gigs?
Sneaky Pete: Well I guess this is kinda stating the obvious but energetic people in the building - hopefully familiar with my music already. I def need me some stage monitors and a good sound man. The one setting I'm really craving I get to experience before the roller coaster ride is over is a European crowd or two.
As for making money, well…I ain't gonna lie to the people. This one escapes me. But of I do get the opportunity to go out on tour…I'm a stay hungry and focused: i.e. getting over to the local college radio station the day of or day before. I'm certainly gonna have some physical product to sell the fans right then and there:
My CD "Monkey Business" of course. Maybe a t-shirt. I hear vinyl can be a good seller. What I do know is that sitting behind a table waiting for fans to come approach you won't get it done.
To add to this point - and I know this will be difficult 99% of us independent artist to hear - never brag about your own shit. Bragging is a major turn off when I'm trying to decide if I like someting enough to support it. Either your stage performance impressed me or it didn't — you don't need to tell me about the Rick Ross duet —that you paid for. If I like THAT rapper I'm gonnna buy HIS album u dig? I even had this one girl tell me: "You should cop this cd NOW…before all your friends do."
AH: What advice do you have for new artists working on improving their stage show?
Sneaky Pete: First and foremost: Don't be a god damn "SCAB RAPPER" !! Let's talk turkey!
You poopheads paying to open for (insert famous rapper name here) do yourself and the rest of us hard working independent BUSINESS MEN a monumental diservice. Why on earth are you willingvto do the promoter's job for them and then give them all the money to boot??
Honestly, I'm not in the business of giving out free advice— I've played the mentor role a few times and for what?? Kids today just wanna cut corners an shit without learning the craft. Hip Hop today is not even really a cutlture. You can't even say nothing critical to nobody without being called a "hater."
But yo, real talk. Basics, man, microphone 101. Motherfuckers are still cuffing mics all damn day, still getting too damn drunk on stage. Make sure your hypeman knows when ur gonna drop out. Plan ur shit and rehearse it. Plan ur shit and rehearse it. Plan ur shit and rehearse it. Get a goddam DJ. Better yet, get some live instruments up in the mix. Video tape everything and watch it back. Bring an email list to ur shows and work the crowd after. Don't be lazy.
And if you can't sing— DON'T.
AH: Do you think that the effort/results equation for online promotion is worth it these days? Most artists I talk to are really starting to question that lately.
Sneaky Pete: I've spoken to a gaggle of publicists and artists attempting to get an answer to that question seems like you have to be paying somebody 2G a month just to get ur shit out there and reviewed but there's no direct connection between youtube views and actual sales anyway.
I'm grateful for every opportunity to speak to my "new fans" all over the world who have found me on FB, Myspace, reverbnation, ourstage, etc…I started a page on FB "I want to buy Monkey Business" and have almost 600 members How many of them will actually shell over at least 10 bones to make it happen…?? 50%? 20%?
My experience with promoting live events on FB is that for every hundred RSVPs maybe 15 people actually show. It's looking bleak for the emcee.
AH: What do you think keeps projects like a touring network, or a hip hop artists union, from actually coming together? Is it market forces, or are we just too selfish to make it happen?
Sneaky Pete: Oof. That's a tough one.
I would say market forces definitely play a factor. Creating and underground tour network is fantastic idea but it would also be a massive undertaking.
As an artist, I know (it's a choice really) that my performance has a value. I've spent time/money to make the music, rehearse the performance (usually that includes others) and since we're talking non-local markets here we need to add travel time/gas costs/ spending 3-4 hours at your event the night of the show and potentially needing a place to sleep. I'm based in Providence, RI. Now imagine getting an invitation to perform along side Ludacris for the official Webby Awards after party in NYC in front of 800 people—Are you gonna be so bold to ask for a paid contract?
Event promotion needs to be a collaborative effort between the venue/organizer/and performers but what I see happening these days is far from it. Venues don't do shit. Organizers pay for the headliner and MAYBE some ad space. But Artists have to guarantee the tickets get sold (just to get on the bill) and rarely get even a percentage of the tix sales. SAY WHAT?
So… cut out the middle man. Ok but More than likely if you've invested your time into music— then you don't have a high paying salary, so unless ur a drug dealer that probably means ur headliner is YOU and it's very difficult to grow a local following these days because everybody would rather BE an artist than support one.
So now I'm an artist/organizer/and promoter. Some how I've managed to beg/plead/entice/swindle my way into the hearts of 100 or so local supporters. I'm setting up my big monthly show and trying to make a profit. Maybe I'm offering to split the door 50/50 with some local acts— maybe I'm even grinding enough to get a local business to sponsor the event.
Now, thinking only in the short term, it seems counter productive for me to put an out of town or non-drawing artist on my bill. (The dopest emcees spend the majority of their time in their basement with a pen and a pad not out in the bars buying drinks to make a bunch of "fans")
So Here again it's very easy to feel like "This is MY crowd and I'm the one doing A FAVOR TO THE ARTIST because I'm exposing them to my fan base—Why should I pay them anything?"
Well…I do believe the answer is in gig swapping. Use the golden rule. Do unto others as you would have them do unto you. If we want to play outside our home markets… we have to find like minded artists from other cities, be willing to pay their gas and put em up somewhere and they agree to do the same for us.
I firmly believe that the ONLY way to build a lasting brand and grow a vibrant local scene is by putting QUALITY entertainment back on the stage. Any young rapper in college can easily bring along 20-30 friends who will hoop and holler but everyone else in the crowd is moaning and growing impatient for the headliner.
AH: What would you personally want to see from an artist to consider the gig-swapping? What are your minimum requirements?
Sneaky Pete: I'm looking for a situation where I could combine efforts with/join a tour that would be headlined by an "already established" artist/label/dj (drawing crowds of at least 100) who would be down to do some fun collaboration with me; both on the performance and the marketing tip and we'd go around for like a month and just blow it out— I aint try'n to get rich just cover my costs, nahmeen?
So yeah, call me greedy— that's my goal for in 2011.
Let's talk turkey. The situation I described earlier: a local artist doing one big show every month to at least 100 paying customers —that aint me. Not anymore newayz. Sure, when I was younger, living in New York City and going out ALL THE TIME— The 00Agents had a very nice following. But now, living here in RI, in my early 30's… not so much. I tried being a local promoter for a while when I moved back but my goal was to move back to the city after completing my solo project. But in all reality, I just don't have that many eggs left to keep putting them into this one basket. I'm in the process of recruiting others who are willing to step up and help me keep this train moving.
So yeah, I admit… I don't even meet my own criteria at the moment.
Related Articles
comments powered by

Disqus
Featured Articles
More DIY Music Resources
Subscribe to Audible Hype